by Wayne Smith
Texas USA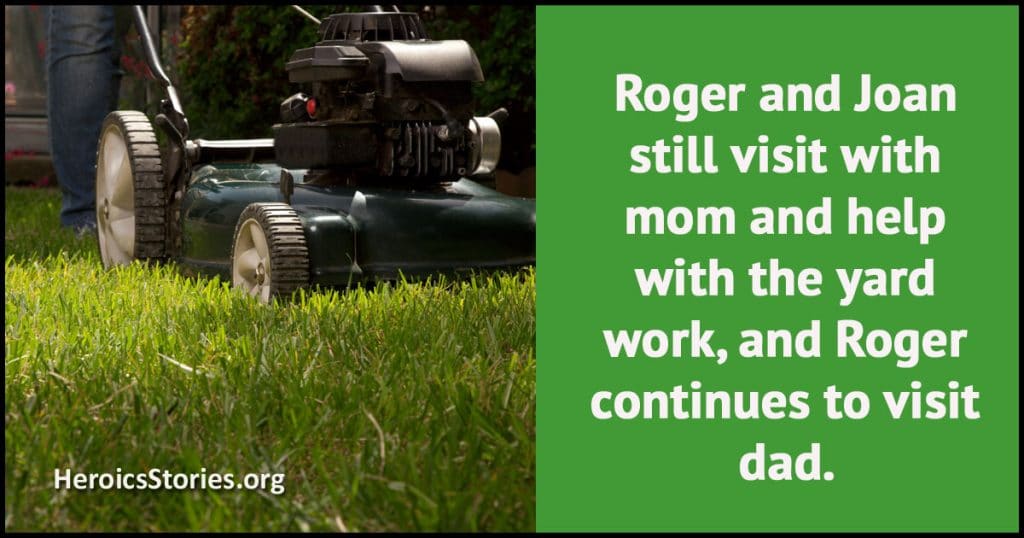 My dad and step-mom moved to her parent's farm near Smith Center, in north central Kansas in 1977. I never knew their friends because I'm 820 miles away, and only made the trip north once a year. In 2001, my dad was diagnosed with ALS, and I became aware of their good friends, Roger and Joan.
As the disease progressed, dad got weaker. Roger started making the 20-mile round trip to their farm daily to make sure my parents were all right. When mom could no longer lift dad by herself, Roger made another trip at bedtime to help lift, bathe and get him into bed. Roger also mowed my parents' very large yard. Many times Roger and Joan just showed up to visit and let my folks know they were there to help.
In the spring of 2003, mom got sick and Roger took her to the doctor. The doctor decided she must be hospitalized. Roger helped get dad into a short-term care center. That evening, Roger, Joan and their grown daughter, Pam, were with mom as her condition worsened. It was decided to "Life Flight" mom to a larger hospital at Hays, two hours by car.
My brother Brad had arrived first at the farm that day. He was with mom when the helicopter took off and wanted to drive immediately to Hays. Pam saw Brad was upset and near exhaustion from his long drive to the farm, so she accompanied him. She navigated, kept him awake and comforted him. She even stayed the night at the hospital so Brad wouldn't have to be alone. During this traumatic time, Roger stayed with dad to comfort him.
Mom did recover from her illness, but was too weak to continue caring for dad at home. Dad was moved to a nursing home in Downs, Kansas, about 30 miles from Smith Center. Roger continued to help out at the farm, and he and Joan took mom to Downs a couple of times a week to visit dad. ALS is a disease that takes your body, but leaves your mind. So dad knew what was happening, but had no control over his body, which sometimes made him very angry. Roger could talk to dad and calm him down when no one else could.
Dad remains in long term care in Smith Center, where he will spend his last days, and mom still lives out on the farm. Roger and Joan still visit with mom and help with the yard work, and Roger continues to visit dad.
Without Roger and Joan's help and sacrifices, dad would not have been able to stay at home as long as he did: they have proven to be very good friends indeed. My brothers and I all live far away from the farm. We are all very grateful to Roger, Joan, and Pam for all the help they have so freely given.
Originally published as HeroicStories #465 on Nov 27, 2003

Podcast: Play in new window | Download (Duration: 4:09 — 3.5MB)