by a recovered addict
Ohio, USA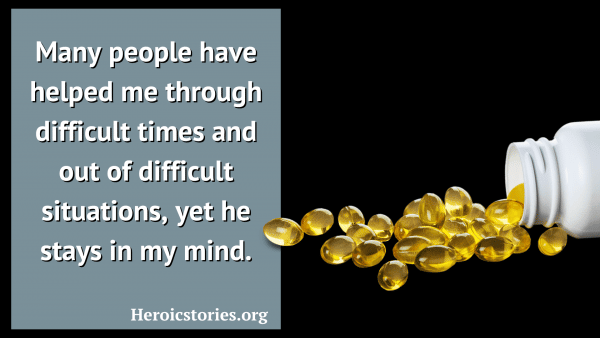 At 20 years old, I had started traveling with the goal of visiting all the National Parks. But somehow, I had gotten sidetracked into drugs. In late 1960, I was in New York City, using amphetamines and sleeping on rooftops.
Sometimes I worked packing boxes for minimum wage, and I sang on the streets or in coffee houses for tips when I wasn't high on some substance or other. I'm six feet tall, yet I weighed about 115 pounds. My friends told me I'd be dead within a year, but I didn't really care. At the time, I had no definite plans, was very depressed, and was considering suicide.
One day I was in Washington Square Park, and a man offered me a substance I'd never tried before. He only said a few words to me, and they were not about my behavior, my slovenly nature or attire, or my lifestyle choices. "This is nicotinic acid. Try it. It will help you." I took it.
Simple words, and to someone like me, they meant another drug, another chance to expand my mind. The name reminded me of nicotine and of LSD, or I wouldn't have touched it. I had never seen him before, and I never saw him again, yet, no matter what that drug was, I would have taken it. Drugs can be scary things.
I took two tablets because I was very courageous. Besides, they were free.
If he had called it by its common name, niacin or vitamin B3, I would have avoided it. He offered it to anyone who would take it. Amphetamine use was rampant at that time in Greenwich Village, so probably many of us were deficient in B vitamins. No doubt that's why this man chose to distribute vitamins to the young and down-and-out. Who knows how many days or months and at what personal expense he spent giving like this?
I can't think of anything else that changed for me, but within a day, I had decided to return home to San Diego and give up drugs — at least for a while — and I was on the road out of New York City. I had apparently been lacking in Vitamin B3.
I've been drug-free for 34 years now, and I can honestly say I not only don't miss them, but deeply, deeply regret ever having taken them. My vitamin man would probably be in his 80s or 90s now, so I'll almost certainly never get the chance to thank him directly.
Many people have helped me through difficult times and out of difficult situations, yet he stays in my mind. He didn't know me and I didn't know him, but I think he saved my life.

Podcast: Play in new window | Download (Duration: 4:05 — 3.1MB)
Originally published as HeroicStories #415 on June 5, 2003