by the sister, E. Izawa
Oregon, USA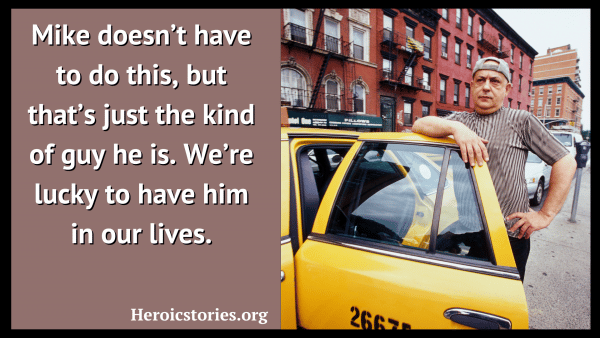 I know very little about Mike the cabbie, really. I know he has his own family with grown kids, and that his wife also works for the cab company. In my city, we typically do not "hail" cabs on the street, but instead call ahead and arrange for pickup. This is where Mike comes in.
There are a lot of people out there who look for disadvantaged individuals like my brother, "Jack", to manipulate, cheat, and steal from. We've met several, but we've also met a few gems like Mike.
My brother has a form of drug-resistant epilepsy that leaves him unable to drive, coupled with a brain injury sustained 15 years ago that left him with no short-term memory. Independence is a key to maintaining a positive self-esteem, so while I would gladly drive him around, having to rely on your sister isn't exactly being independent.
Thus, Jack came to an agreement with one of our local cab companies to have one particular driver take him wherever he needs to go, whether to simply run errands or drive the three-hour round trip to visit our mother.
Mike's wife was on the cab company's side of the initial arrangements, and felt her husband would be best suited for the job. She was so right.
Mike started driving my brother late in 2002. He is quiet, unassuming, and someone who "won't take no guff." He's got short gray hair, a neatly trimmed moustache, a ready smile, and a heart of gold. He's very quiet; I don't know what, if anything, he and my brother talk about when they're together, but I do know they have incorporated little things to help my brother on a daily basis.
Jack once forgot to retrieve his ATM card and money from a bank ATM (some kind soul turned it all in to the bank), so now every time he withdraws money and returns to the cab, they check that he has both card *and* cash safely stowed. Every time.
Mike understood to make it a ritual of caring, not nagging. Jack grins when he tells me about this.
More importantly, the few times a year Jack has to go to the hospital emergency room for epilepsy-related injuries, Mike and I communicate. I call immediate family (Mom, Dad, my husband), and I call Mike. Or vice versa, if Mike took Jack to the hospital.
The most recent time this happened, in July of 2005, Mike called me at home that evening to check on Jack; he didn't want to call my brother's house in case he was resting. Mike and his wife had been sick with concern for my brother's well being.
Mike doesn't have to do this, but that's just the kind of guy he is. We're lucky to have him in our lives.

Podcast: Play in new window | Download (Duration: 4:11 — 3.2MB)
Originally published as HeroicStories #635 on October 5, 2005