by Jim Harris
Warner Robins, Georgia, USA
Too many young boys headed in the wrong direction in life never get a second chance to straighten their lives out. I did thanks to a man that loved and cared for young men needing that second chance.
In the summer of 1958, I was sent to live with Jasper on his small farm in Myakka, Florida. Uncle Jasper, as we all called him, had a penchant for taking young boys that had gotten in trouble with the courts or came from broken homes as I did, and turning their lives around. He was a widower and lived a simple farm life. In the morning we would milk cows, feed chickens, tend goats and sheep, and only then come in the house for a typical country breakfast before going to the fields to work for the rest of the day. The work was not unusually hard, but each of us had our chores to do and there was no fooling around.
Uncle Jasper had spent his earlier years as a school teacher in Sarasota County and had started the Vocational Agriculture program in the schools. He was a man deeply rooted in the traditions of the past and a devout Christian who played the old pump organ every Sunday in the old Methodist church we attended. He baked his own bread, drank milk from his own cows and goats, churned his own butter and gathered eggs from his henhouse.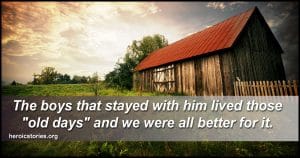 Uncle Jasper was always willing to allow school children to visit his farm and learn a bit about how things were done in the "old days". Many of those children had never petted a goat or a sheep, heard a rooster crow or touched a milk cow. The boys that stayed with him lived those "old days" and we were all better for it. He built a shotgun cabin in his back yard out of lumber from old cabins in the area and furnished it with genuine family antiques. This way, the school children could see how their forefathers had lived. Years later, when he was discussing "his boys" with a newspaper reporter, he confessed that one of his boys had gone astray. Wondering what tragic sin the boy had committed to warrant such concern, Uncle Jasper replied that the boy had taken strong drink. Such is the way we were raised by Uncle Jasper.
Today, the old shotgun cabin has been relocated to a state park nearby and school children still make regular visits to see how it was long ago before the days of electricity and television and video games. Thank you, Uncle Jasper, for helping me, and so many others like me, get our lives back on track. I'm now working as a corporate trainer.
Originally published as HeroicStories #11 on May 27, 1999

Podcast: Play in new window | Download (Duration: 3:55 — 3.7MB)