by Jeremy
Virginia, USA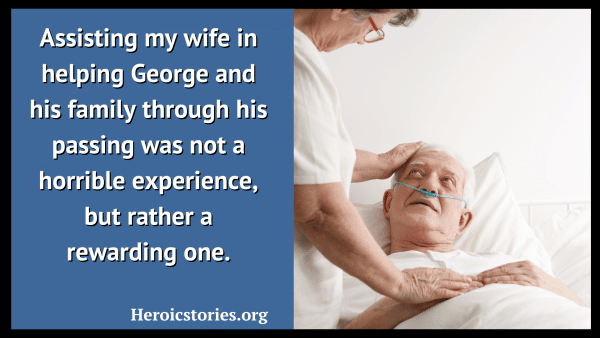 On February 16th 2003, Virginia was being dumped on. Locally, we had four or five inches of sleet, snow, and ice, and were better off than much of the state, so I guess we were lucky. But things were messy enough that nobody was going anywhere if they didn't have to.
At our bed and breakfast, my wife Diana and I said goodbye to the guests, cleaned the rooms, and sat down for a cup of tea. Then Christina, our next door neighbor, rang the bell. She came inside and collapsed in tears. George, her husband, was dying, and she and Marita, her 25-year-old daughter, were trying to care for him. The visiting nurse couldn't get through, and it was all too much for them.
Diana responded with compassion while I followed from duty, certain I wouldn't like what would face us there. We received lessons in caring for the dying. We bathed George, diapered him, changed his gown, put cream on his bedsores, and tried to make him as comfortable as possible.
I'm pretty sure George didn't recognize us, but he clung to my hand as we bathed and moved him, a little metal crucifix between his hand and mine. He relaxed as we finished. We moved him up the bed onto pillows, putting pillows under his knees and feet to keep his sores from abrading on the sheets. Diana stayed a while, trying to get some liquids into him and giving his wife and daughter time off.
After dinner, we went back next door to turn George over and make sure he was comfortable. Seeing the relief on Christina and Marita's faces as Diana took charge and gave us assured, competent directions was a pleasure to behold. She put them on four-hour shifts, with clear instructions to sleep between and make sure the other person slept her full shift. They now clearly felt comfortable with the prospect of caring for him, at least until morning.
We went back the next morning to continue caring for George. He passed away peacefully in his sleep about 3 p.m. His wife, son, and daughter were at his side, as were we. The hospice nurse had arrived perhaps 15 minutes before, so she was able to pronounce his death and attend to subsequent details.
There was a time in this country when most people died at home in the bosoms of their family. It was the rule, not the exception. Fear or discomfort at seeing the dying and the dead was not the rule, but rather the exception.
Assisting my wife in helping George and his family through his passing was not a horrible experience, but rather a rewarding one. Learning to treat a helpless dying person with compassion and dignity was an epiphany for me. I am truly grateful to have had the opportunity. And I'm so proud of my wife Diana's compassion, clarity, and leadership.
Originally published as HeroicStories #593 on February 22, 2005

Podcast: Play in new window | Download (Duration: 4:00 — 3.0MB)