by Debbie
California, USA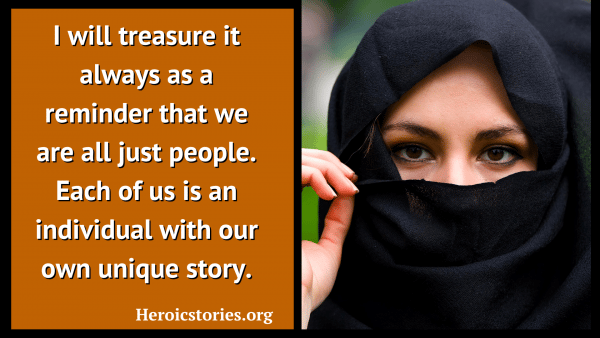 I work in the children's department of a major department store. In February 2005, I encountered a customer of Arab descent, or so I assumed at the time because of her clothing. She was dressed in black and gray from head to toe, and most of her face was covered.
She was looking around guiltily because she was about to rip open a packaged dress shirt. It's no big deal, really. Everybody does it. Because of my training and because she was acting so guilty, my first thought was that she was about to steal it.
But then I saw her eyes: she was afraid.
I approached her and asked if she needed help. She was clutching a dress shirt for boys, and now she looked terrified. It was amazing how much emotion I could see in her eyes. I believe in eye contact and looking someone in the eye when speaking with them, but how often do we really do this?
In fact, it's possible that not being able to see her whole face helped me to see "her".
She didn't speak English. She kept pointing at a 9- or 10-year-old boy and almost wringing the shirt she was clutching. That was easy enough to understand without words: "Does it fit him?"
I asked her to hand me the shirt and showed her the trick to opening the package without ripping it apart. Suddenly the fear in her eyes was gone, replaced by smiling eyes. After that, I helped her find a different tie than the one she had picked because it didn't go with the suit.
Then she started saying a lot of words I didn't understand and patting me on the arm. I knew she meant a very enthusiastic thank you. I was glad I could help her.
When I came in to work the next day, I was told there were some "strange" Arabs waiting for an employee in the children's department. The lady had come in again with her daughter to translate. My boss had guessed she wanted me and told her when I would be in. They waited for me.
Through her daughter, this is what she said. "I have been in this country one month. I find nothing but hostile and dangerous eyes. I am not a terrorist. My family is not terrorists. You are the only one to see this. You treat me kind, even though I misbehave. I thank you."
She gave me a jade green amulet. Her daughter said it is a symbol of humanity. I will treasure it always as a reminder that we are all just people. Each of us is an individual with our own unique story.
Different cultures do not eliminate the humanity in humans.
Originally published as HeroicStories #733 on December 5, 2007

Podcast: Play in new window | Download (Duration: 3:50 — 2.9MB)