by Fred T. Beeman
Las Vegas, Nevada, USA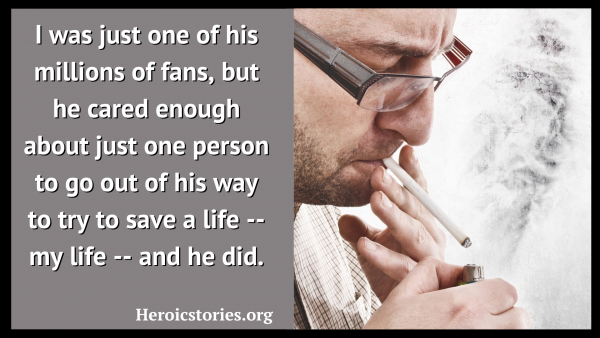 In 1978, my wife and I attended the Star Trek convention at the Regency Hotel in Denver, Colorado. Among the guests in attendance were Bruce Hyde ("Lt. Kevin Riley"), Jonathan Harris ("Dr. Smith" from "Lost in Space"), and George Takei ("Mr. Sulu").
While in the men's room at one point during the convention, I was somewhat startled when George Takei entered. I knew he wasn't coming in to use the lavatory facilities, since he had them in his hotel room. I quickly figured out that he was "passing through" the restroom on his way to the men's exercise room, located next door.
I casually said, "What's up, George?"
He smiled and replied, "Two hours of exercise, every day! You never know when I'll be called upon for a part that requires strenuous physical activity." Those of us in the men's room asked if we could follow him into the exercise room to watch him work out, and he said, "Sure! Then I'll have someone to talk to!" We trailed him into the room and observed him going through his paces.
While he was grunting and straining against the various machines, I pulled out a pack of my cigarettes and politely asked, "Do you mind if I smoke?" (In 1978, one could smoke almost anywhere.)
Mr. Takei stopped his exercises, stared at me for a second (probably anticipating my reaction) and said, "Yes, as a matter of fact, I do." I put my pack of cigarettes away.
For the next two hours, George Takei appeared to speak only to me, asking me questions about my smoking and saying, "You never saw anyone on board the 'Enterprise' smoking." He explained that it wasn't because smoking was forbidden. It was due to the fact that by the 23rd century, humans will have learned that smoking accomplishes no good and serves no needs.
The "lecture" of TV's Mr. Sulu weighed heavily on my mind, not because of what was said but because of who said it. For months afterward, I replayed our conversation in my mind and finally came to my senses. Later that year, I began a three-year effort to quit smoking that was ultimately successful.
I saw Mr. Takei again at a 1981 Star Trek convention in Houston, Texas, and was flattered that even though he didn't remember my name, he DID remember our conversation. I happily informed him that I had just completed my second year without cigarettes. He hugged me and congratulated me in front of a roomful of onlookers that included actor Walter "Chekov" Koenig.
George Takei did what no one else probably could do: he got me to quit smoking. I've been free of the habit for almost 21 years. I was just one of his millions of fans, but he cared enough about just one person to go out of his way to try to save a life — my life — and he did.

Podcast: Play in new window | Download (Duration: 4:00 — 3.0MB)