by Jim Rutledge
Austin, Texas, USA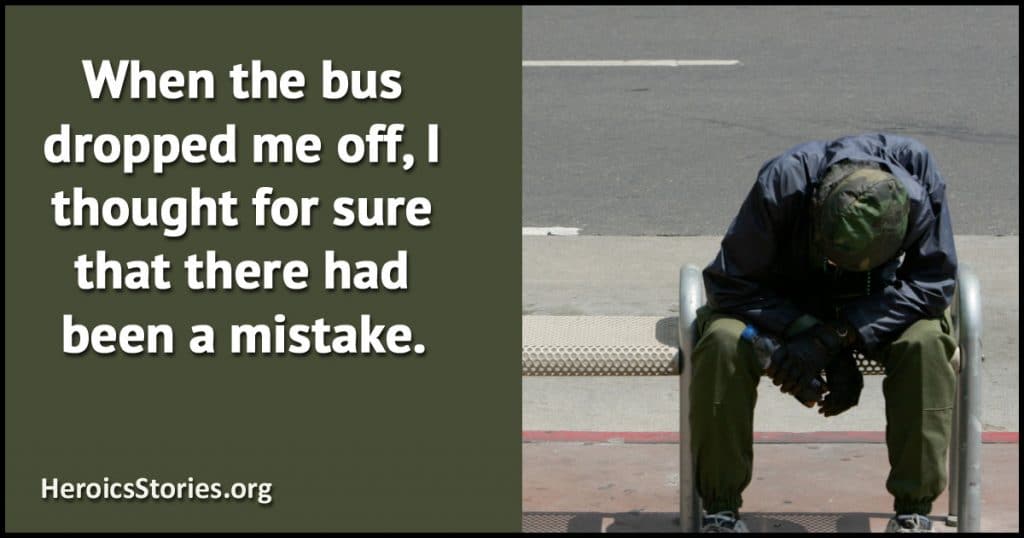 I was young and on my own in the Navy in the fall of 1981, stationed in San Diego, California. I had a serious operation at Balboa Hospital there, where they had to put a steel rod in my chest about 12″ in length. It made breathing and moving around very difficult.
I was given two months to go home and recuperate from my surgery, so I headed to Illinois. Usually I made my visits home in the summer, so I did not think to dress for the fall weather that Illinois was having — all I was wearing was a windbreaker.
Arriving in Chicago just minutes after the last bus to my hometown of Peoria had left, I could either sleep in the cold, damp bus terminal or take a bus that would stop at a terminal just 30 miles from Peoria, in Bloomington. I decided to go on to Bloomington, thinking that it would be a short ride home in the morning.
As the bus got closer to Bloomington it starting snowing and the temperature began to drop. Had I known the terminal in Bloomington was closed, I might have been more concerned. When the bus dropped me off, I thought for sure that there had been a mistake. The whole town was dark. Everything was closed.
There I was, in pain at three in the morning, and it was snowing and well below freezing. My windbreaker didn't help against the elements at all. I huddled in the doorway of the terminal not having any idea what to do. The metal rod in my chest and the cold air was making it almost impossible to breathe. I was quickly losing consciousness. Finally, I passed out.
Then I heard a voice and saw a hand pulling me up. He half-carried me, half-dragged me for what seemed like miles until we reached his house. He laid me down on the sofa, covered me up and sat there while I slept. When he woke me up that morning, he took me back to the bus terminal. I went to the restroom to freshen up and when I came back there was a cup of hot chocolate at the table and he was gone.
After I got home, I borrowed my mother's car and drove back to Bloomington to find him and thank him for his act of kindness. But nothing seemed familiar. It was as if it was a dream. But I know it was real and he was real. I have never been able to find out his name but I will never forget him for as long as I live. I have shared this story with many people over the years and probably will continue to do so. It's been 21 years now.
Originally published as HeroicStories #176 on Sep 19 2000

Podcast: Play in new window | Download (Duration: 3:49 — 3.1MB)