by Dawn Horney
Phoenix, Arizona, USA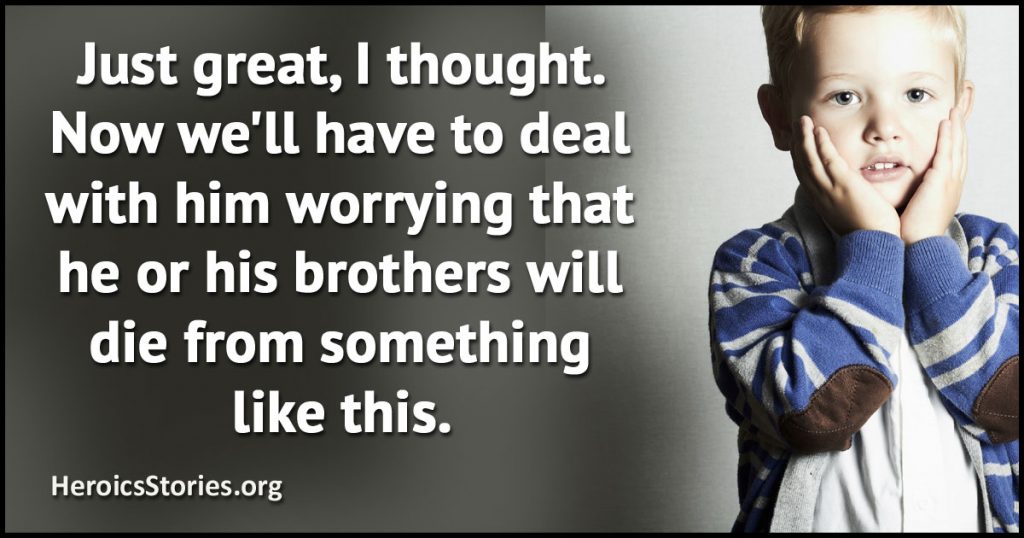 My 8-year-old son, Josh, has confided in me that he dreams of one day being a hero. The funny thing is that he doesn't know I already think he is.
When he was 5 years old, Josh was watching television while I was probably doing housework or something in the other room. He started yelling, "MOM! Come see this!" This was not uncommon — he liked to show me toy commercials or anything that was science-related, like animals or a neat experiment on "Bill Nye".)
I came out to the living room and he was watching a "news magazine"- type show. These are decidedly not on his approved list of shows, but apparently he was flipping channels and there was a story about two little boys that captured his attention. My immediate reaction was to tell him to turn off the TV; "we don't watch those kind of shows". But I waited to see what he was so excited about.
It was a story of a family where two brothers both had a rare blood disorder that would eventually be fatal. They were almost the same ages as Caleb, my second son. Just great, I thought. Now we'll have to deal with him worrying that he or his brothers will die from something like this. But at the end of the story the mother made a direct plea for pregnant women to donate cord blood as it was the only hope for a cure that might save her boys. (Similar to donating bone marrow but less chance of rejection or need for "typing".)
Josh immediately pressed me to call the phone number and say I would do just that, as I was about 5 months pregnant at the time. But I didn't react fast enough to write the number down. After the show was over he continually begged me to find a way to call and help those boys. I called the local station, tried to locate a number for the show and checked the toll free directory with no success. When I told Josh I couldn't find the phone number, he asked me to keep trying.
I finally tracked down the Cord Blood Foundation (or close to that) through the National Marrow Donor Program. In the end, because of my 5 year old's determination and compassion for two little boys he saw on television, I was privileged to donate my daughter's cord blood on July 26, 1996. I'm so thankful we donated when we had the chance, and I wish we knew if someone was helped because of it. At any rate, Joshua David will always be my hero and now maybe he'll read this and know it is so.

Podcast: Play in new window | Download (Duration: 3:55 — 3.2MB)