by Carol E. Robertson
San Pedro, California, USA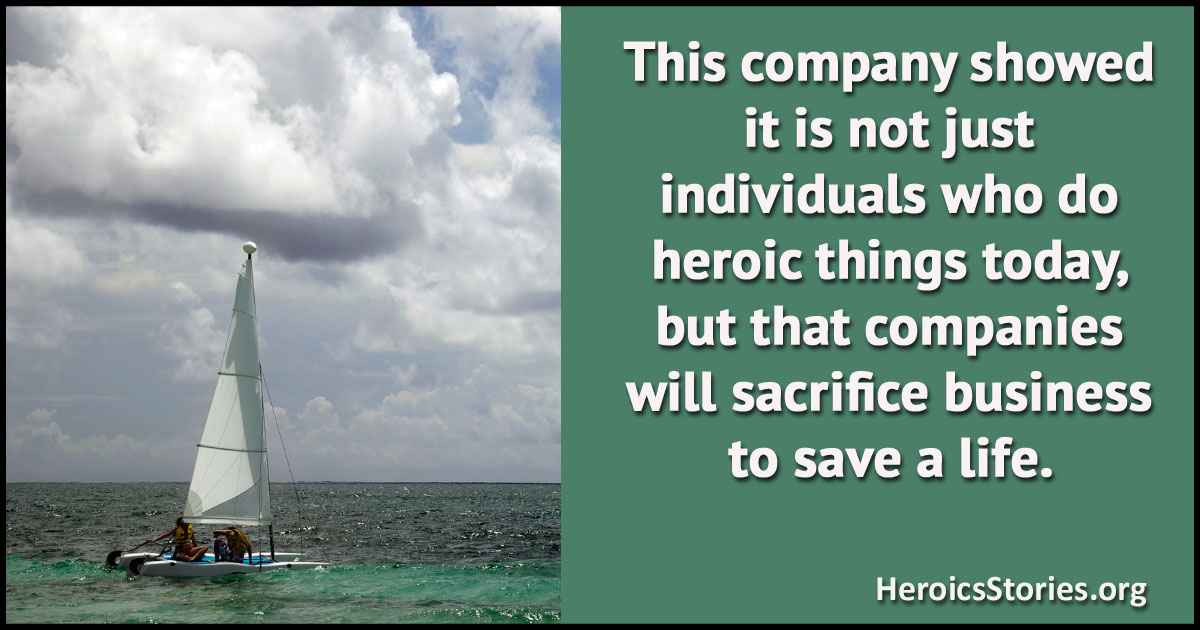 In 1993 I lived near Bridgeport, Connecticut, on Long Island Sound. One beautiful, windy, mid-October Saturday I was sailing my friends' 14- foot Hobie Cat sailboat alone, enjoying myself immensely. It was getting late and I noticed most boats had headed in to the harbor, so I came about and headed in. As I did, a huge wave caught the boat's bow and flipped her end-over-end so the boat was floating upside down in the water with absolutely no way to bring it upright.
I realized I was rather far out from shore with no boats near me. Concerned, I climbed onto the hull and surveyed my situation. The air and water were both chilly. The sun had begun its descent. The seas were rough, with 6-8 foot swells continually knocking me off the upside-down boat. As I tried to calmly think through my options, I clearly heard my mother's voice from childhood, "No matter what happens, always stay with the boat." Reality hit; this is how good swimmers and good sailors die.
I waited. About an hour passed before I saw the local passenger ferry coming toward me. The wind and current had deposited me right in the middle of the shipping channel and as I watched, the ferry drew closer. I quickly realized that they could only see me when the boat was on the crest of a wave and that if they did not see me soon, they would hit me. Judging their speed and distance, I picked a nearby buoy as a mark, deciding that if they passed it without turning, I would dive off the boat and swim as far away as possible. About 20 yards before the buoy, they turned and then stopped.
The Port Jefferson Ferry Company called the Coast Guard, who could not get to me for another hour or so. I was already blue wherever my spring wet suit did not cover me, my body was battered, my shins were very bruised, and my strength was failing from holding on and repeatedly climbing back onto the hull. So they maneuvered the huge ferry as close to me as they could and threw me a lifeline, but because of the large swells it could not reach me. Eventually, I swam to it and was pulled to safety aboard the passenger ferry.
People onboard were wonderful. One man videotaped the rescue and later mailed the tape to me. Several others gave me their extra clothes, and no one complained when the ship turned around and took me back to shore.
As it turned out, the Coast Guard had so many rescues they could not retrieve my friends' boat, so another ferry brought it in. The Port Jefferson Ferry Company cancelled an entire round trip crossing and forfeited the revenue to save the boat and my life. I am forever grateful. This company showed it is not just individuals who do heroic things today, but that companies will sacrifice business to save a life.
Originally published as HeroicStories #204 on 2 April 2001

Podcast: Play in new window | Download (Duration: 4:36 — 6.5MB)