Sandra Sebastian
Indianapolis, IN
It all seemed to happen so suddenly. One minute, my mother was talking normally, and the next, she was babbling baby talk. Being seven hundred miles away from your parent when they obviously need medical attention is one of the scariest things I have ever gone through.
Let me give you a little background. My mother moved to the middle-of-nowhere Missouri with my stepfather. He wanted to be back in familiar surroundings. He has been suffering with numerous health problems, including Alzheimer's. My mother is his caregiver and the love of his life. His world revolves around her, and hers around him.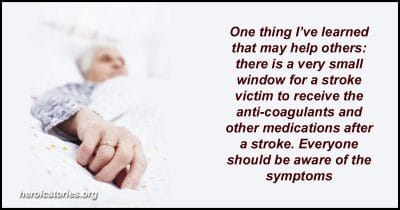 Last Wednesday, the older of my two brothers made his weekly call to check in with her. The conversation became very weird when she suddenly began speaking gibberish. We assumed that a new medication may have caused a bad reaction, or that she'd had a minor stroke. He called the next morning, and she was still unable to communicate with him. He immediately called the neighbor across the street.
The neighbor called another neighbor down the road, who is a first responder. She immediately recognized the signs of a stroke and called an ambulance to take my mother to the hospital, 45 minutes away. She has been there for a few days now. While the doctors will take good care of her, my ailing step-father needs assistance of his own. These wonderful neighbors have continued to watch over him, making sure he takes his medication and that he and the pets are fed. They even cut the very overgrown yard and took my step-father to the hospital to see my mother.
They rallied around my family to make sure my step-father was ok until my brother got there 24 hours later—and their assistance continues. They have helped my brother with all manner of issues with the house. There were broken pipes that needed mending and trash that needed to be hauled away. They have been there every step of the way to help as needed.
They are definitely our angels of the prairie.
One thing I've learned that may help others: there is a very small window for a stroke victim to receive the anti-coagulants and other medications given after a stroke. Everyone should be aware of the symptoms and remember to err on the side of caution and get care for someone that you think might have suffered a stroke. We may never know, if we had gotten her to a hospital sooner, if the damage to her mind and body would have been less severe.
Originally published as HeroicStories #883 on March 17, 2017

Podcast: Play in new window | Download (Duration: 3:53 — 3.6MB)