by Joe Mendez
California, USA
I wore a red shirt in support of awareness about heart disease in women on February 4th, 2005. (Well, it was really burgundy; the closest I had to red in my closet.) Many people don't know heart disease affects woman as much as it does. I had planned to wear red all week, but a tragic incident on the soccer field Wednesday night made this awareness day more personal for me.
My over-40 soccer team played a team called the "Redlands Heat". We led 3-1 with the game winding down to the final minutes, when the ball sailed out of bounds. Meanwhile, at mid-field Jose, a player on the Heat team collapsed and fell face first to the ground.
He didn't even put his hands out to stop his fall. His nose looked like someone had punched him. Players from both teams converged around Jose and asked if he was all right. He was not. Jose was unconscious and breathing erratically.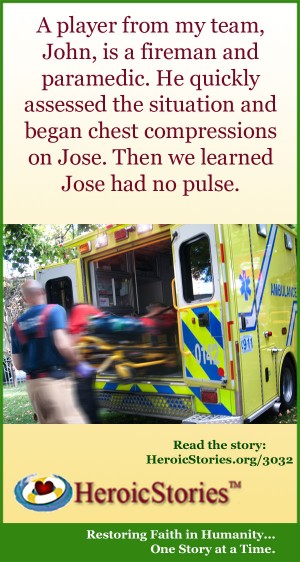 A player from my team, John, is a fireman and paramedic. He quickly assessed the situation and began chest compressions on Jose. Then we learned Jose had no pulse.
Then he stopped breathing. John shouted for someone to begin mouth to mouth as he performed the chest procedure. When someone's life is in immediate danger only five feet from you, it feels like nothing else in the world matters at all.
I felt helpless, but was assured that Jose was attended to in the best possible manner given the circumstances. John asked for a cell phone and called his fire department coworkers. Within minutes we heard the sirens, and more help was on the way. When they arrived, most of us observers stepped away and allowed the paramedics to do their job.
They hooked Jose up to an IV tube and my teammate Richard stood holding up the bottle until they were able to get Jose up on the gurney and moved into an ambulance. Jose was rushed to the hospital.
We sadly learned the following morning that Jose did not survive. Doctors said that he had suffered a massive heart attack and was likely gone before he even hit the ground.
Even as this sad and tragic event unfolded, what really sank into me was the quickness that John and others responded to aid Jose. They did all they could to help a man they didn't even know. A player from another team is taking up a collection for the family Jose leaves behind: his wife, two high-school-aged kids and two adult children.
Regardless of what you may read in the papers or see on the television news, the average person is willing to step up and help another in time of need. That evening we saw the basic human spirit in action. If not John, it would have been someone else who would have refused to allow Jose to go out without a struggle.
Originally published as HeroicStories #613 on May 3, 2005

Podcast: Play in new window | Download (Duration: 4:02 — 3.8MB)