by William Lifsey
North Carolina, USA
In the mid-1980's I was Captain of a B-747 flying from Newark, New Jersey to Los Angeles. One flight, as usual, I went downstairs to greet and thank the First Class passengers and there, in the very front row, was Mohammed Ali, ex heavy weight boxing champion of the world. He had been to a Parkinson's clinic and was returning home.
I had boxed in college and the Navy and was tremendous fan of his. The first time I saw him on TV he fought Floyd Patterson. Patterson kept his hands next to his cheeks, an excellent defensive position to protect his face and prevent being knocked out, but a rather weak offensive position. Ali fought with his hands at his waist while he literally danced in and out and around his opponent. It wasn't a traditional boxing stance.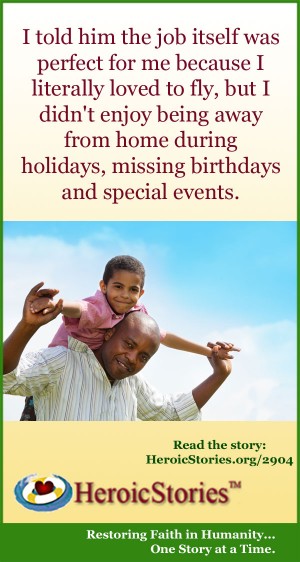 I told him I knew he was an extraordinary fighter when he was able to throw a punch from his waist and hit Patterson in the face before Patterson could close his hands to protect himself.
After I spoke, there was an awkward pause. I wasn't sure if Ali had heard me, and I was debating whether to move on or repeat myself — then his face lit up with a smile. Apparently the Parkinson's had caused a short circuit. The Champ was standing up in front of his seat when I spoke. He put his hands up in a mock boxing stance, started to shuffle his feet back and forth and proclaimed, "I was smoking, I was smoking."
Hours later I went down to First Class again, and the aide traveling with Ali told me the Champ wanted to speak with me. He asked about my boxing history and our conversation soon turned to our families. We both loved our children and our families greatly. He asked what the worst part of my job was.
I told him the job itself was perfect for me because I literally loved to fly, but I didn't enjoy being away from home during holidays, missing birthdays and special events. In fact, on that trip I was missing a Cub Scout camping trip with our son. He inquired more about the camping trip and our son's name.
Shortly after we arrived at the gate in LA, there was a knock on the cockpit door. It was Ali's aide with a gift for our son, a signed 8.5 by 11 inch photo of Ali. The Champ had written a message to our son on the photo: "The time your father spends away from home, is the price he pays for service to others".
During 30 years with the airlines I had many pleasant experiences and many lessons about the generosity and kindness of people from around the world. But 10 years into retirement, what I remember most are Mohammed Ali's stories about his love for his family, and his kindness toward our son.
Originally published as HeroicStories #802 on June 11, 2010