Janet Bowlin Martin
Wyoming, USA
I attended Centennial Elementary School in Lawrence, Kansas, more than forty years ago. Mrs. Bailey was my first-grade teacher. I remember her as an older lady with salt-and-pepper hair, firm but kind, brooking little nonsense when it was time to work, but patient and grandmotherly — all wonderful attributes for introducing children to public education.
Mrs. Bailey let us decorate gingerbread men and take them to the cafeteria to be baked. I was amazed that we actually got to make — and eat! — cookies at school. And whenever it was time to read from the "Jack and Janet" primers, I was grateful that Mrs. Bailey wouldn't let the other kids tease my classmate Jack or me very much. (It was easier when we read about Dick, Jane and Sally; there weren't kids in our class with those names.)
But I came to truly appreciate Mrs. Bailey when our town had a centennial celebration. During my first-grade year, Lawrence celebrated its 100th birthday with a beard-growing contest, a parade, and many other citywide activities. I don't know if it was because our school was named Centennial, or if all schools participated, but a dress-up day was scheduled and we were encouraged to wear clothes in the style of the mid-1800s.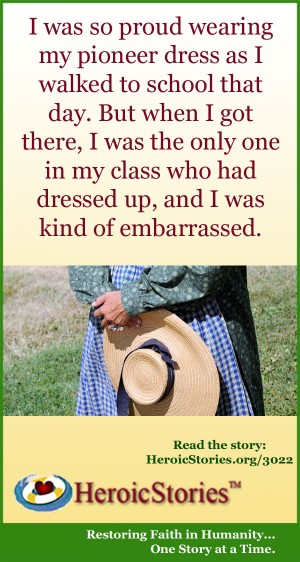 My mother made pioneer-style dresses with matching bonnets for my sister and me. For Sherida, who was in sixth grade, Mom made a red-and-white flowered dress; the fabric for my outfit was the same print in blue. The dresses had long sleeves, and their full skirts ended at the floor with wide gathered flounces. To create the authentically styled bonnets, Mom inserted cardboard forms into the large fabric brims to hold their shape and attached long ties to the poofy crowns. Looking back I realize the outfits were quite elaborate for costumes, but Mom is quite a seamstress.
I was so proud wearing my pioneer dress as I walked to school that day. But when I got there, I was the only one in my class who had dressed up, and I was kind of embarrassed. Mrs. Bailey "oohed and aahed" over my outfit, then went to her office briefly before starting class.
It wasn't long before Mr. Bailey came to our room with a sack for his wife. He stayed with us while she went back into her office — and she reappeared a couple minutes later in a frontier-style dress! She explained that she had called her retired husband and asked him to bring the costume.
We moved away from Kansas two years later, and I still regret that I never told Mrs. Bailey how much I appreciated what she did for me. I've always been grateful to the teacher who went out of her way, and even enlisted her husband's help, to keep a little girl from feeling out of place. I had a large number of wonderful, caring teachers throughout the years, but Mrs. Bailey has always held a special place in my heart.
Originally published as HeroicStories #457 on Oct 30, 2003