by Nathan Stolov
Missouri, USA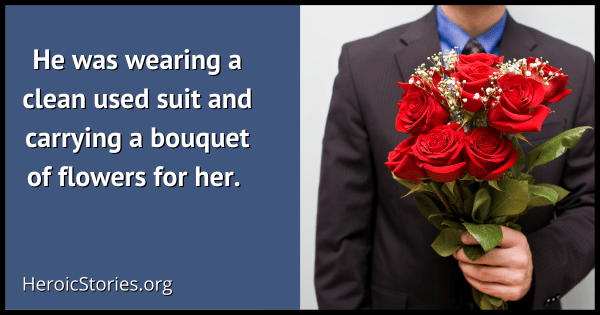 When my grandmother was in her late 60s, she was quite independent. She handled all her own cooking, cleaning, and shopping, and lived in a second-floor apartment. She drew a small Social Security pension — barely enough money to live on. She accepted little financial help from her grown children, most of whom had families of their own.
Baubie awoke early one morning, thinking she heard a noise on her balcony. From the balcony door, she saw nothing had been disturbed. The next morning, the same thing happened. Baubie wasn't a person with an overly active imagination, so she set her alarm clock to wake up early the following day. Arising, she quietly went to the balcony door and discovered a poorly dressed man sleeping on her balcony. His alarm clock went off, he went over the balcony rail, and he disappeared down the street.
Baubie wasn't a person to wish anyone harm. She knew the man must be in very bad financial trouble to secretly live on her poor balcony, and she was certain he wasn't dangerous. After all, he hadn't tried to break into her apartment!
That evening after dinner, she put out a package of leftovers for her "balcony guest." The following morning she found the leftovers had been eaten, and her guest had left money for the food. She put his money safely under a spare pillow and blanket, along with a dinner that night and many other nights.
Because food was expensive, she finally allowed her children to help buy food, which she insisted she prepare. This went on several weeks, and Baubie's guest finally gave up on leaving money for anything. But one day, without a word, her guest was gone. She worried that something had happened to him.
One evening a few days later, there was a knock at her front door. On answering, Baubie was greeted by her guest. He was wearing a clean used suit and carrying a bouquet of flowers for her. He was a businessman who had lost his business after an employee stole money from him. He had sent his family to live with his wife's parents and worked to make good his losses. Having paid off his employee's thievery, he was working for another business as a manager and was now able to look his ex-business associates in the eyes.
His first goal after paying off his business debts was to repay "his grandmotherly angel" for her generous kindness, but Baubie wouldn't have it. His words and knowing he was well were enough. She invited him to dinner, insisting he repay his wife's parents with the money he had saved, which he agreed to do.
Baubie said it wouldn't be proper for her to take his money, because "parents are supposed to help their children." In her mind, in the way she was brought up, this perfect stranger, this gentleman who was near her children's ages, was a "temporary son" given her to watch over. And she did.
Originally published as HeroicStories #379 on January 30, 2003

Podcast: Play in new window | Download (Duration: 3:16 — 4.3MB)