by Darrel G. Tyree
Overland Park, Kansas USA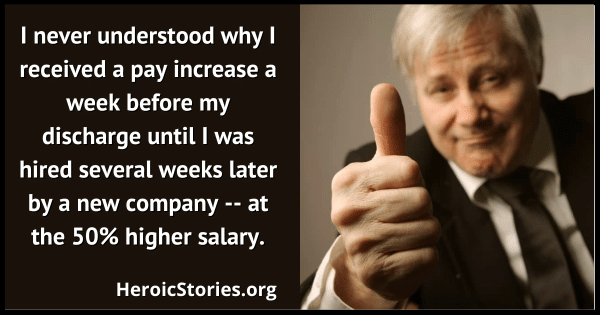 The first time I was hired as the head of Human Resources was for a family-owned company. Jim was the Chairman of the Board, having married into the family that had founded the company. I learned later that Jim had worked for the family in various jobs for many years. He was very supportive of me. He made sure I was supported by the Board and my colleagues.
I had graduated from college but had no work experience. Because I was young and enthusiastic, I had more ideas than were possible to implement, but Jim was always available to hear them. He would encourage me to try anything, whether practical or not. Because of my youth and inexperience, I made a lot of mistakes. Jim made sure that each of my mistakes was a learning experience. I was never made to feel bad that I had tried and failed.
Jim could always find a way to make you feel good about yourself. On one occasion, we announced that we intended to increase our employee's costs in the health care plan and to reduce paid sick leave. We received so much criticism about reducing paid sick leave that we decided to drop that.
Just when I was feeling dejected from all the employee criticism, Jim congratulated me for being responsive to our employees by backing off of the proposed sick leave change. He thanked me for reducing the company's cost on the health care plan, which went relatively unnoticed by our employees.
I quickly learned we had a very small market and had been losing money for years. The niche we filled was drying up, and there were no other directions the company could go in order to survive. Our budgets were tight and raises were small. In spite of this adverse environment, morale and camaraderie were very high among all employees.
One day Jim called me into his office and gave me a 50% percent pay increase. To say the least, I was surprised and very grateful. I asked if the company could really afford such an increase, but Jim explained that my contribution to the company was such that the entire Board of Directors had decided I should be rewarded. The following Friday, Jim called me into his office and told me that unfortunately, my job had been eliminated.
I never understood why I received a pay increase a week before my discharge until I was hired several weeks later by a new company — at the 50% higher salary. Jim was looking out for my future even as I left the company.
Jim is no longer with us, and the company has been out of business for many years. Yet I know that all who worked there still benefit from the positive experience of working for Jim.
Originally published as HeroicStories #231 on Sept 4, 2001

Podcast: Play in new window | Download (Duration: 3:53 — 3.1MB)