by Leon Pollock
Athens, Pennsylvania, USA
Our daughter Missy, 14, had agreed to babysit four young girls in our home while their parents went to do some shopping for groceries and other items. The four girls, ranging in age from two to six years old, are wonderful little kids and are a joy to have at our home. It was cold outside, around 0 degrees. As the four children entered our home, we noticed immediately that one of them was not wearing a coat. We asked the mother where her coat was and the answer we received was a shock: she said that it was lost and she didn't have another one for her to wear.
After their mother had departed, the girls wanted to sit down and watch some cartoons. They removed their boots and coats and we discovered that one of the girls was not wearing any socks. Missy asked her where her socks were and she said that she didn't have any. After a short while, the girls wanted to go outside to play in the snow. Missy proceeded to bundle them up and found socks, coats, gloves and hats for all of them to wear, and they went outside to play in the snow.
An hour later they all came inside to warm up. Missy fed them some pizza and drinks. They literally gobbled the food down. The girls commented that they had not eaten since breakfast when they each had only a fruit roll-up. We could then understand why they ate with such voracious appetites.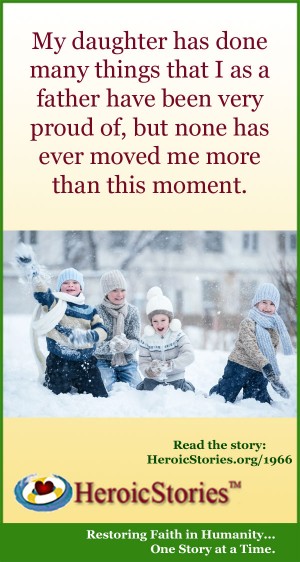 After a few hours, the girls' mother returned to pick them up to take them home. Missy reluctantly accepted the pay from the mother for watching the children. After the girls had departed, my daughter stood leaning against the wall for a long time with a very sad look on her face. She asked me if I would take her to the store. I agreed to do so. When we got to the department store, she led me to the children's clothes section and proceeded to pick out some socks for the girls and a winter coat. Missy had brought all of the money that she had earned in the past few months from babysitting.
Once she paid for the purchases and walked out of the store, she stopped and turned to me and had a tear in her eye. We embraced in the cold winter night for a long time. My daughter has done many things that I as a father have been very proud of, but none has ever moved me more than this moment. When we got back into the car, she asked me to drive her to the house of the four girls where we left the bag of items on the doorstep. Missy then knocked on the door and quickly departed back to the car before she was noticed. We drove home in silence, each of us with tears welled up in our eyes.

Podcast: Play in new window | Download (Duration: 4:01 — 5.6MB)