By Michael Koehnlein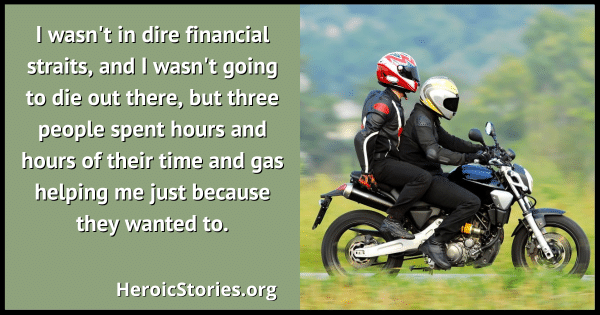 It was the summer of 1984, and I was headed west on my Suzuki, camping gear strapped to the seat. In Denver, I met two guys riding a Honda. They were nearly broke, and going to Florida to start new jobs. We hung out for a while in their hotel room. Before leaving, I bought them dinner and a six pack. At about 9:00 p.m., I started east on I-70, headed towards home in the dark.
Two and a half hours later, in the middle of nowhere, the master link fell off the chain. I coasted to the shoulder knowing I didn't have a spare. A few minutes later, a Harley rider pulled up and offered to help, but without another master link, there was nothing we could do. He was headed east to boot camp at Fort Dix, but he offered me a ride back to Denver to drop me off with the Honda guys.
Between stopping for me and going back to Denver, he was going about six hours out of his way. We decided to leave my bike on the shoulder. Then a Colorado State Trooper pulled up behind us. He suggested pushing the bike down into the ditch so it would be out of sight: all of that camping gear would be very tempting. The ditch was soft sand, and the bike's side stand was sinking. The trooper emptied a clipboard and handed it to me to put under the side stand. "Don't worry, I'll get another one back at the barracks." He promised to keep an eye on my bike while on patrol.
By 2:00 a.m., we were back in Denver. I tried to insist, but the Harley rider wouldn't take any money for gas. The Honda guys threw some blankets on the floor of their hotel room and let me sleep there. The next morning, one of them took me to a local bike shop, where I bought TWO master links; then he drove me out to my bike. A quick repair, and the bike was fixed. I followed him back to Denver, where his buddy had been waiting all that time. These two guys were delayed for six hours in addition to being woken in the middle of the night. I filled their tank, but that didn't cover the gas they had used. I knew it would be their only meal that day, so I bought them a huge lunch.
I wasn't in dire financial straits, and I wasn't going to die out there, but three people spent hours and hours of their time and gas helping me just because they wanted to. And the second master link I bought? Just before Kansas City, I pulled onto the shoulder behind a stranded Yamaha motorcycle… with a missing master link!

Podcast: Play in new window | Download (Duration: 3:37 — 2.6MB)
Originally published as HeroicStories #859