by Mary Mullaney
New York, USA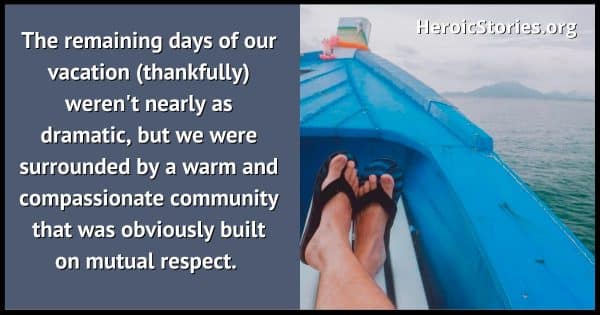 It was a much-needed vacation on beautiful Sacandaga Lake, in the town of Day, New York. Ralph and Margaret had generously allowed my friend Adele to invite three strangers to share their summer cottage, I among them.
Ralph and Margaret had to return to work the day after we arrived, but they welcomed us warmly. They treated us to BBQ, which we happily accepted, especially as Ralph was a chef by trade and the meal melted in our mouths.
After supper, they took us out on the lake in their powerboat to see the sunset. What an enchanting view! Depending on where Ralph headed the boat, we saw the sun behind or above the Adirondack Mountains. Because it was a weeknight, few people were enjoying the view and the evening's calm from the water. We all agreed it was a lovely beginning for our vacation, but soon it was time to turn around and power back to their beach. We hadn't traveled far before the engine's hum cut out.
Our perfect evening had changed. Ralph was determined to get the engine to roar back to life, but no matter how many times he cranked that key, no matter how many endearing words he said, that engine was not going to respond.
No one panicked, and we soon unearthed the distress flag and found the flares and air horn. All was not lost! Now if only another boat would come by at this late hour, we could signal to it. We passed the time amiably, and soon sighted a passing boat. We signaled diligently and were relieved when it turned in our direction.
The kind captain of that vessel had a full load of passengers fatigued from a long day and a nearly empty gas tank. Despite their desire to speed to port, they offered to tow us to their dock. They would let Ralph keep his boat there until he could have a mechanic look at it the next day.
The darkness as we were towed was not filled with the chill we all imagined while stranded, but with a warmth that could only be supplied by people who genuinely cared and did something about it. One man on the boat towing us offered to taxi all six of us back to our cottage in his van. It was a 30-minute drive one way to the other side of the lake.
The remaining days of our vacation (thankfully) weren't nearly as dramatic, but we were surrounded by a warm and compassionate community that was obviously built on mutual respect. Thank you, Ralph and Margaret, for opening the door to that caring community to us, and making us feel even more "at home" than in our own communities.
Originally published as HeroicStories #602 on Mar 25, 2005

Podcast: Play in new window | Download (Duration: 3:58 — 2.9MB)