by D.A. Padayachee
Kwa Zulu Natal, South Africa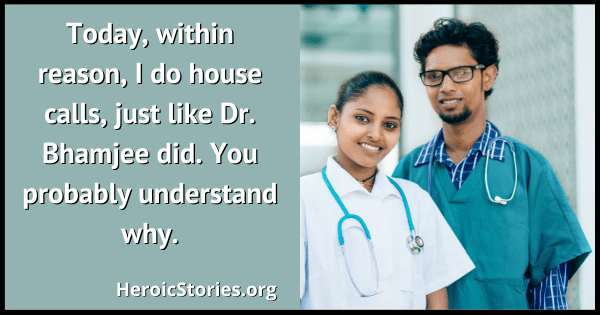 As a seven-year-old lad growing up in the area of Umhlali in rural South Africa in 1961, our family doctor, Dr. Bhamjee, had his surgery some six miles away in Tongaat. He was very busy — he cared for the poorest of the poor, and his surgery was usually packed with black Africans, often clad in torn clothes. He charged very reasonable rates.
He often travelled to do house calls at our home after finishing his work at his practice. He was always very polite and soft spoken. He usually made all of us well, no matter what the ailment, and my parents spoke of him in glowing terms.
One evening, the doctor peered into my throat and said that I had to go to hospital. In 1961, there were no private hospitals for Indian South Africans in the nearest big town. Therefore, I had to go to a public, segregated, non-white hospital. My parents were appalled at the idea. Would I get proper treatment? How would I be treated as a minority Indian person?
And what in Heaven's name could be the matter that could not be sorted out at home, as always? Diphtheria, the good doctor intoned in grim tones, explaining that it was a fatal disease if not attended to properly. Even admission was a problem at the public hospital, so not only did Dr. Bhamjee write out a letter of admission, he actually followed us to the hospital!
I received a very painful penicillin injection immediately on admission, and I was wheeled to the ward after being examined by one of the doctors on duty. Like my parents, I was in tears. I had never lived away from home. Suddenly I was whisked away from my warm, loving environment where every attention was paid to me, to a cold, unfamiliar bed surrounded by sick children. I was attended to by unfamiliar nurses who were clearly dog-tired and utterly overworked.
I cried myself to sleep every night for the first week. After seven weeks of visits from my parents every evening (traveling those same long, poor roads), I was discharged. My dedicated doctor and the people of the hospital had saved my life.
I set my heart on becoming a doctor. It involved a lot of hard work to be permitted admission at the sole segregated South African government University that admitted African, Indian and "Colored" students. Competition was fierce, but I was admitted in 1970. The teaching hospital for the University was the same hospital where I had been a patient, and I attended to patients in the same ward that held such unpleasant memories for me. That experience helped me know how patients feel, and I made a point of talking to them as much as possible.
Today, within reason, I do house calls, just like Dr. Bhamjee did. You probably understand why.

Podcast: Play in new window | Download (Duration: 4:10 — 3.2MB)