by Mia Shinbrot
British Columbia, Canada
My old desk chair slanted forward and to the left from many, many years of use by the summer of 2004. I'd been badly in need of a new desk chair for some time and looking for one I could afford. I don't have much money, so that limits what I can buy.
I tried second-hand stores but never found anything that was right for me. My physical limitations mean that the vast majority of chairs cause me problems of one sort or another.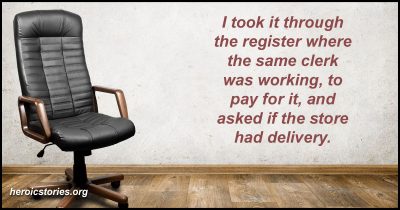 One week in August my friend Celu pointed out that a particular store was advertising in its sale flyer that they had a "leather" executive chair for $70 as part of their back-to-school sale.
I went to the store on a Saturday to see it. I couldn't find those chairs, but a sympathetic clerk named Selena showed me that in fact there were six or seven of them left — disassembled in boxes.
I told her I needed to sit in a chair to work out whether it would work for me. She offered to have one of the men in the back assemble one for me if I could come back on Sunday. I said Sunday is fine, but I might still not buy the chair if it wasn't right. She said no problem; they needed a floor model anyway. (That left the point that if I *did* buy it, they'd still have no floor model.)
I went back on Sunday. I decided that though not perfect, the chair would do. For $300 I would have been fussier; for $70 it was remarkable value.
I took it through the register where the same clerk was working to pay for it and asked if the store had delivery. Selena wasn't aware of any, but a man who was passing said it could be arranged by asking a manager to arrange it with the receiving department.
The clerk phoned the manager from the till. He asked her to ask me where I lived. As soon as I said "Esquimalt" she told him never mind and turned to me to say, "I live in Esquimalt and I have a truck. I'll deliver it for you when I get off work." That was going to be in about 15 minutes from that moment.
I had other errands to do and was just about to think of a way I could be home when she delivered the chair, when she said, "Go on about your errands and just phone me whenever you get home." I left the store almost in tears from her kindness.
I finished errands, got home, phoned her, and she delivered the chair. It's not perfect, but with a cushion I've made it work. Selena's kindness above and beyond the call of duty is something I'll never, ever forget.
Originally published as HeroicStories #708 on April 17, 2007

Podcast: Play in new window | Download (Duration: 3:57 — 1.9MB)