by Dan Champion
Michigan, USA
While growing up in grade school, I was always a bit behind the rest of the class. I was the typical nerd. I was picked last for any team at recess. The harder I tried to fit in, the more I stood out as being different. It didn't help that I was a bed wetter, and my mom's idea of breaking me of it was to refuse to allow me to shower before school. All the kids knew I wet the bed and I didn't know how to stop.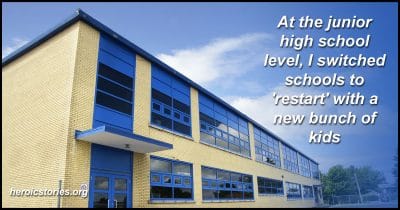 At the junior high school level, I switched schools to 'restart' with a new bunch of kids — to get away from the group that never let me live down the daily jokes. Unfortunately, a couple other kids switched at the same time, and it wasn't long before I was singled out again.
We walked over a mile home from school. Every day I had to take a different route home from school so I could avoid the guys who would try to beat me up. Most of the time I was able to avoid them, but many times I ran into them and was beaten on my way home.
High school came and things continued; I was still wetting the bed every night. My folks had started drinking every day after work and things just got rougher and rougher. At the 10th grade level I convinced my Mom that I needed to get out of the house and go away to school in a different city. She found a Christian boarding school two hundred miles away and agreed to send me to it. I was excited to finally get a new chance and hopefully make things different.
I was rooming with two other boys and I was very careful to not drink anything in the evenings so I wouldn't wet the bed and start this whole thing all over again. One night I woke at 5 a.m., and found I had done it again. My mattress was soaked. I was devastated. I knew what this would mean if I was found out. I got up and was trying to figure out what to do when one of my roommates woke up.
Vernon, a senior, asked me what the problem was and I said nothing. He asked if I wet my bed. I couldn't believe it. How had he figured that out? And now the whole school would know.
He said, "I know what to do." He helped me sneak my mattress out to the old pole barn and toss it next to the pile of other mattresses, and sneak a new one back to the dorm without anyone finding out. He never told a soul, and I stopped drinking any liquid after noon, and have never wet the bed since.
His act of love helped change my life. One simple gesture made me realize that not everyone was out to get me.
Originally published as HeroicStories #414 on June 2. 2003

Podcast: Play in new window | Download (Duration: 3:44 — 1.8MB)