By Katherine K Croley
Alabama, USA
On a beautiful, warm fall day in the middle of November, l980, in the sunny southern United States, my new husband and I were traveling northwest to Hot Springs, Arkansas. After a lovely marriage ceremony surrounded by family and friends, we were on our honeymoon. It was a magnificent autumn afternoon and a beautiful drive.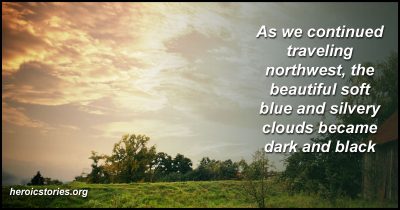 We enjoyed the splendor of the impressive display of nature's last fling as she prepared for the long winter's rest. The highway was a gray ribbon of concrete lined with colorful trees that added to the mystery and glory of the season. The warmth of the sun and the brilliant colors seemed to mellow the earth with the radiance of crimson, gold, orange, purple and brown leaves. They blended into spectacular scenery for us to enjoy.
As we continued traveling northwest, the beautiful soft blue and silvery clouds became dark and black — threatening to change the delightful warm weather we were basking in. Soon a cold drizzling rain set in, making it a bleak winter afternoon.
It was getting late, and we were tired and hungry, so we started looking for a place to spend the night and something to eat. We soon found a motel with an adjoining restaurant. After we checked in to the motel, we made a quick dash through the sprinkling rain to the restaurant. However, I became chilled, as I was wearing only a light-weight suit.
We were in a hurry to leave after the wedding, and I never once thought I would need warm clothing. Now I was cold because I was not dressed for the chilly weather. The waitress noticed how cold I was and I explained to her that I had forgotten to bring a jacket as the weather had been so warm.
She took our order and soon served us a delicious hot meal. In a little while she returned to our table with a warm fleeced-lined corduroy jacket and handed it to me. I hesitated to take her jacket, for she had mentioned earlier that she would soon be leaving the restaurant. How could I send it back to her?
My husband also didn't want me to borrow her jacket, for he knew it would be some time before we could return it. He said he would buy a jacket for me in Hot Springs. She said, "I don't want you to return it. I want you to have it now to keep you warm on the remainder of your trip."
I marveled at her generosity to share like this with a complete stranger. Her kindness touched my soul and melted my heart as her jacket warmed my body.
Originally published as HeroicStories #398 on April 7, 2003

Podcast: Play in new window | Download (Duration: 4:04 — 1.9MB)