by Richard Ewald
California, USA
My friend Don is one of those guys who has never met a stranger. Everyone he meets becomes a friend. Don is a college dean. The program he administers is considered to be the best training program of its type in the world. Not one of the best, but number one. This is due almost entirely to Don's vision and personality. The word dynamic was coined, I believe, to describe Don. I met Don when my company became affiliated with his program.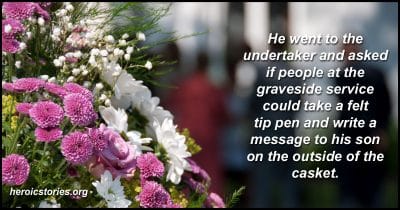 This January I was at the college and Don dropped by. I asked him how his Christmas was. "Not too good," he replied, his son had died. I asked how old his son was. "In his early 20's. It was an accident." I tried to say words that might comfort Don, but no mere words can help at a time like this.
Don started to talk. He and his wife had planned a public church service, and a private graveside service for family only. However, after the accident the phone kept ringing with his son's friends calling to say his son had been their best friend. After 30 calls, Don and his wife decided they must do something for all these kids who'd lost their best friend. They opened the graveside service to everyone, so their son's friends would have another chance to say goodbye.
Then Don got an idea. He went to the undertaker, another lifelong friend, and asked if people at the graveside service could take a felt
tip pen and write a message to his son on the outside of the casket. "Things like that just aren't done," the undertaker replied.
Don persisted and the undertaker reluctantly agreed, saying it must be a wood casket for the pen to show. "Can I try a pen on a casket in an inconspicuous place?" "No, if you mark it you own it." So Don choose a casket he thought would take the marker's ink.
Before the service Don wrote a goodbye on the casket. At the graveside service the Minster announced that anyone who wished could come up and pen a farewell on the casket.
At first no one got up, then one person did, then another. Before long everyone present was lined up for a chance to write their good-byes.
When the last person had finished, the entire casket was covered in messages and drawings, the way a high school yearbook gets decorated.
As Don walked back to the car, he turned and saw his undertaker friend pick up a pen and write a final message.
I am proud to be Don's friend. In the depths of the worst experience that a father can endure, he thought not of himself, but of his son's
friends. He then took steps to ease their pain. I know his idea will be imitated by others and comfort many more people — a fitting tribute to both Don and his son.
Originally published as HeroicStories #380 on Feb 3, 2003

Podcast: Play in new window | Download (Duration: 4:18 — 2.0MB)