by Thomas Russell
Illinois, USA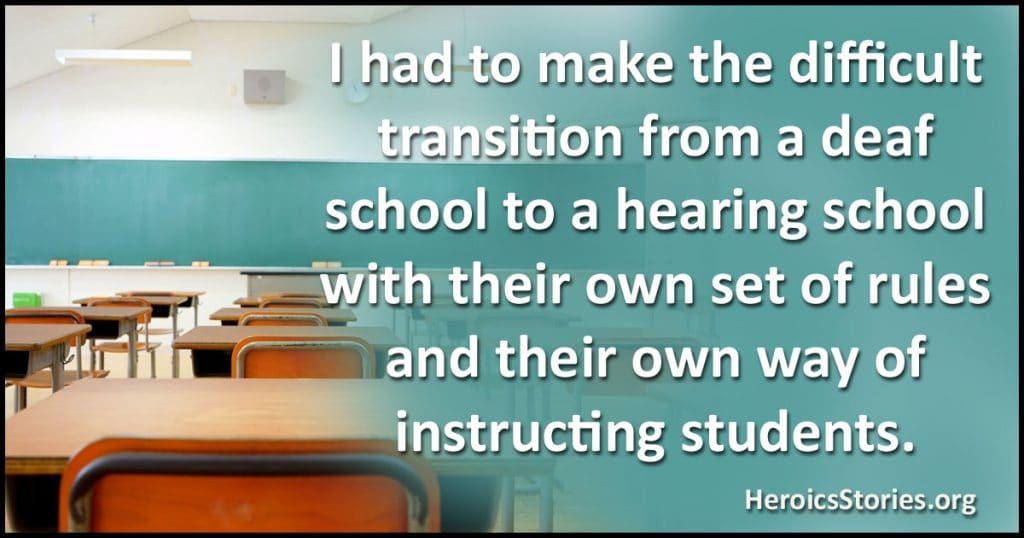 When I had to start 7th grade I did not want to be there at all. I had graduated from a prominent deaf school in St. Louis, Missouri, and it was determined that I had to be mainstreamed into a "hearing" school in my hometown of Belleville, Illinois.
The word "mainstreaming" is considered to be a kiss of death by some deaf people because mainstreaming means not being with peers who share the common traits of the deaf culture. I was terrified at the thought of going to a school filled with strangers — who would not have anything in common with my deaf culture.
I had to make the difficult transition from a deaf school to a hearing school with their own set of rules and their own way of instructing students. But all my fears changed when I met a fellow student in my homeroom by the name of Brett Watkins. Because I was in an unfamiliar place and I was struggling to understand what the teachers were saying, he went out of his way to make sure I understood what my homework assignments were.
He always offered to help me understand the instructions for my homework assignments. He would make sure that I was aware of what else was going on, too, such as school rallies, school color days, events, and so forth. He lived at the other end of a block from me so it was no problem for either one of us to visit each other at any time, for any reason.
Everyone, from my parents to teachers to students, was pleased to see that I had adapted so well to the rigors of mainstreaming, but I could not fathom the level of surprise the teachers exhibited at Brett's willingness to help me.
Only after he moved away before we started the 8th grade, did I learn something about Brett: he was considered by everyone to be a "bad apple". Until my arrival, the teachers felt that he was going nowhere fast and seemed certain to be a dropout.
It was strange how our lives changed the moment our paths crossed, when he was becoming a lost cause and when I was scared and unwilling to try. Even the leopard can change its spots. If it weren't for Brett, I would not have learned how to cope with mainstreaming and if it weren't for me, he would not have learned how to change his spots.
Originally published as HeroicStories #579 on Dec 31, 2004

Podcast: Play in new window | Download (Duration: 3:24 — 3.2MB)