By Daniel Kirk
Independence, Missouri, USA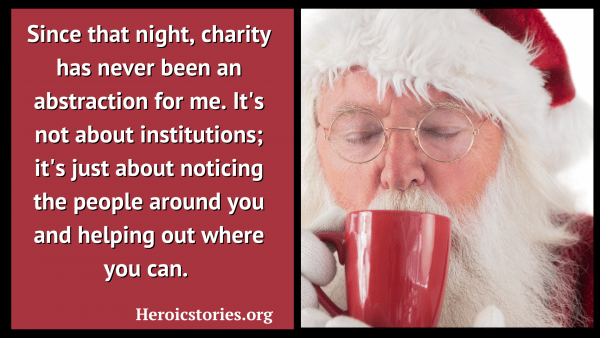 Whenever I see a Salvation Army bell ringer — the volunteers who stand outside stores during the Christmas holidays to collect donations — I think of my dad.
One bitterly cold Michigan night when I was about ten, he and I went last-minute Christmas shopping. We saw a bell ringer in front of a store. Some people pretended not to see him. Some, looking guilty, dropped their loose change into his canister. Others smugly inserted dollar bills and collected their God Bless You's.
The bell ringer was shivering, and icicles were beginning to form in his moustache. My dad went into the store and headed directly for the snack bar. He bought a cup of hot coffee and brought it out to the bell ringer.
Since that night, charity has never been an abstraction for me. It's not about institutions; it's just about noticing the people around you and helping out where you can.
Originally published as HeroicStories #5 on May 11, 1999

Podcast: Play in new window | Download (Duration: 2:04 — 1.6MB)