by Carol Rainville
El Cajon, California, USA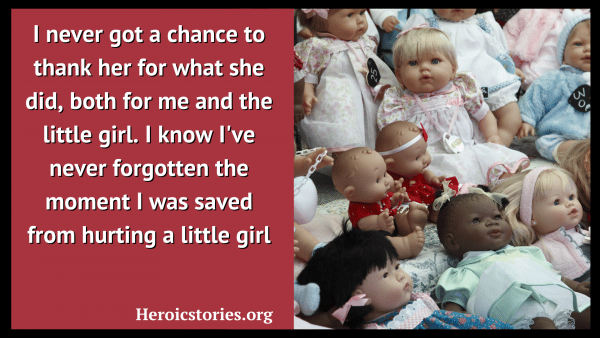 I was working at the toy counter of a dime store in Orlando, Florida. I was 15, and the year was 1952. I had to fib about my age to get a job, and I barely supported myself on the $25/week salary. But this was the South, and times were tight for everybody.
It was a few days after Christmas, and we had a lot of dolls left unsold on the canopy-like overhead of the toy counter, as well as many more dolls in a storage closet. The store wanted me to stand on a box in front of the counter and sell the dolls at 75% off. My young voice trying to attract the passing shoppers to our sale didn't seem to get anyone's attention. Shoppers continued to walk by, ignoring me.
Suddenly, a small girl holding her mother's hand walked by, and I impulsively handed her a doll. Her mother stopped to find out why her daughter had this doll, and I explained our wonderful sale. The girl had stars in her eyes and a baby doll in her arms, and nothing was going to make her give this doll back. I had made my first sale.
I continued, handing anyone walking by, both young and old, a doll, and soon I had the two cashiers behind the counter rushing to ring up all the sales. Soon we had sold all the dolls from the overhead display and were bringing more dolls from the storage closet. I was feeling very proud and confident at the success of my assignment.
Then I handed a doll to a small, shabbily dressed colored girl. (That's what we called Black people back then). Her eyes lit up. I explained to her mother about the wonderful sale. Sadly, her mother took the doll away from the little girl and handed it back to me. Tears filled the little girl's eyes as her mother explained that there was no money to buy this doll. I reminded her that this was a really good buy, but the mother just shook her head and said to her daughter, "I told you Santa couldn't afford to get you anything this year," and began to walk away.
Just then, a well-dressed, middle-aged white woman wearing a fur coat said, "Wait — let me buy this doll for your little girl." She took the doll from my hands and handed it back to the little girl. It happened so fast I never got a chance to thank her for what she did, both for me and the little girl. I know I've never forgotten the moment I was saved from hurting a little girl, and I'm sure that girl, now a grown woman, has never forgotten her wonderful doll, either.
Who said there's no Santa Claus?

Podcast: Play in new window | Download (Duration: 3:58 — 3.2MB)