by Maggee Davis
Massachusetts, USA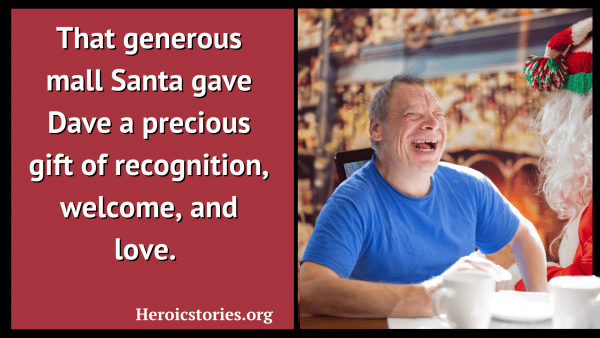 "Dave" had Down's Syndrome and grew up in a state institution for the mentally impaired. He was there from age one. After being released along with many others in the 1970s, Dave lived in a community residence with three other men. The residence had three staff people, including me, who helped the men take care of everyday needs — laundry, cleaning, shopping, food preparation, going to movies, taking vacations, and so on.
When I worked with Dave in the 1980s, he was 45 years old. He had Irish heritage, black hair, blue eyes, and no teeth. His bowl-shaped haircut complemented his low hairline, a common feature among people with Down Syndrome. He belted his pants below his round belly. Dave appeared different from most people, but he was clean-shaven, clean, and managed his self-care well.
Early one December morning, I took Dave to Arsenal Mall in Watertown, Massachusetts, to help him buy Christmas presents and personal care items. At the end of a long hallway, we saw someone setting up for the day: the mall Santa. He was portly and older than most mall Santas, with a fake beard but real glasses.
Usually Dave communicated with a simplified version of sign language. He seldom spoke. But right then, he raised his arms and yelled in a loud, clear voice: "Hey, Saa-antaaa!"
As Dave waved and hollered with the biggest grin I'd ever seen on his face, Santa put on his cap and came right over. I gave him a heads-up by exclaiming loudly, "Look, DAVE, it's Santa!" Santa picked right up on it. He said "Ah, Dave, I was hoping I'd see you here today." Dave was thrilled. Santa shook his hand, clapped him on the shoulder, and knew his name.
Dave spoke little, doing his usual muttering, simplified sign language, and imitation of activities. I interpreted what I could and Santa listened graciously. People who work with mentally handicapped adults are careful not to treat them like children, so I wouldn't have suggested Dave visit Santa at the mall. But Dave saw Santa as an old friend and greeted him. Santa responded in kind.
Santa spoke slowly and clearly in a hearty, deep voice. Without being condescending, Santa said he knew that Dave had been very good that year. I agreed. Santa said he could always count on Dave to be a gentleman. He sounded as if he had known Dave for years. Dave floated for the rest of the season.
I didn't know how to tell this man what his greeting meant to us, but there was probably no need; I'm sure he saw my tears. That generous mall Santa gave Dave a precious gift of recognition, welcome, and love. It cost him nothing and took no more than a few minutes. Indeed, he provided an unforgettable example for respecting the dignity of every human being from one moment to the next. I remember it every Christmas. I'm sure Dave does, too.
Originally published as HeroicStories #468 on December 8, 2003

Podcast: Play in new window | Download (Duration: 4:29 — 3.6MB)