by Thomas Horne
Maryland, USA
December 24, 1988 our firehouse ambulance was racing in response to a baby being shaken out a window three stories in the air. Police were also en route. Dispatch relayed that the baby was being used to extort money from the mother. On arrival we indeed saw a baby being waved out a window by his feet three stories up.
As we ran up the stairs my partner said, "Distract the guy for a minute, I'll get the baby."
A crying 5-year-old child opened the door, "He's hurting my brother!" I entered, speaking as calmly as I could. Wild-eyed, the assailant said, "Don't touch me, cop, or I smash the brat."
I said, "I'm a firefighter. I only want to check the baby."
Suddenly a pair of hands appeared and grabbed the child. From the apartment's kitchen, my driver had gone out the window and reached across to grab the child — three stories up.
WildEyes looked at his now-empty hands, charged past me and escaped.
Breathing raggedly, I surveyed a desperately bleak room. One bare bulb, broken furniture, an empty drawer for a crib. My partner came in holding the baby very close to himself, saying over and over, "He's all right. He's all right."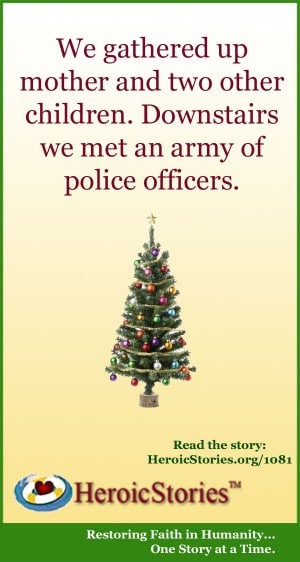 We gathered up mother and two other children. Downstairs we met an army of police officers. As we loaded up the family, the officers took the perpetrator's description. With the madman's picture etched into my brain, I described him from top to bottom.
After transporting the family to children's hospital, we took another call. When the officers caught the assailant he fought, bruised two officers, and ended up needed stitches.
Back at the station, a senior firefighter asked me for every detail. When I finished, he said, "You can't fix the world but you can mend parts of it," and got our shift together. "We have a family to care for," he said.
"It's Christmas eve! Most stores are closed," we chorused. The captain replied, "I think this shift could pull it off on Christmas day." No one argued further.
Groups went to the grocery, a toy store, and a child care supply store. Between us, we assembled Christmas for a family that needed everything. Next item, the only unpurchased Christmas tree left from our department's tree sale fund-raiser. The crew shortened that poor scraggly thing and trimmed it to a decent shape. A 24-hour pharmacy yielded lights and ornaments.
We called the hospital and found the baby's evaluation would take several more hours; the family would be sent home in the morning.
At 11:00 p.m. we were finally ready. But back at the apartment building, the apartment door had a double-cylinder jimmy-proof lock.
We laddered the apartment, and hauled all the supplies up the ladder.
Two different police officers came by with more items. We all agreed that at least for one day, the baby's brother and sister and yes, even his mom, could believe in Santa Claus.
Originally published as HeroicStories #841 on December 25, 2011