by Tim Beckett
Arlington, Texas
Five years ago, my wife Maureen suffered a mild stroke. She was 28 years old (sorry honey, I didn't mean to tell on you). She was a three pack per day smoker and a little overweight. She quit smoking, started a proper diet and exercise program. She stayed off cigarettes, lost weight and got in the best shape since she was 17.
Then she heard of the "Danskin Women's Triathlon Series", which benefits the Susan G. Komen Breast Cancer Foundation. Maureen decided to do it. For a year, she trained like a woman possessed. The triathlon consumed her. She got up at 4:30 a.m., headed to the gym before work, trained six or seven days a week.
The "Sprint Triathlon" consists of a .75K swim (one-half mile), 20K bike course (12 miles) and 5K run (three miles). On June 4, 2000, Maureen and 2,300 other women met near Austin, Texas. At 7:30 a.m. the first women dove into Lake Travis. The youngest athlete was 10; the oldest 74.
By the end of the race, I was an emotional wreck! I cried more in four hours than in the past four years! I saw my wife realize her dream. As volunteers helped athletes out of the chilly morning waters, I saw determination and perseverance on their faces as they mounted their bikes. Exhaustion and pain painted the same faces as they dismounted bikes and headed out running. Finally, there were tears of joy as they crossed the finish line. They hugged one another, sobbing, collapsing to their knees — not from exhaustion, but from pride and joy in their accomplishment.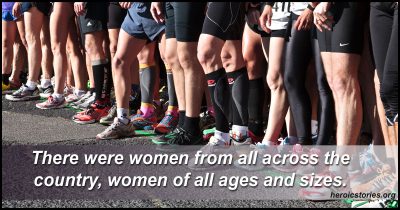 My daughter and I watched Maureen start and complete each segment. We cheered so loudly as she passed. The look on her face was the glow of realizing her dream. Our 8-year-old daughter was so proud as "Mommy" got her medal. Maureen ran over to us, and we stood hugging and crying. She had done it!
One team of 40 women, the "Survivor Team", have beaten breast cancer, or are undergoing treatment. They stuck together, never letting one member lag behind. These wonderful ladies crossed the finish line in the pouring rain. I cried my eyes out as they cried and hugged each other.
There were women from all across the country, women of all ages and sizes. A 73-year-old grandmother crossed the finish line in driving rain, with her daughter and granddaughter on either side! I became determined to stay until the last athletes finished, so they would hear the cheers and applause the others heard.
One special woman crosses the finish line last at every race. Susan Edwards is committed to being last at every Danskin Triathlon so no athlete will be in "last place."
Every one of these women chased a dream. That day, they caught it.
Originally published as HeroicStories #188 on Dec 15, 2000

Podcast: Play in new window | Download (Duration: 4:06 — 3.8MB)