Sylvia Nablo de Vasquez
Belize
Several years ago my fiance Yovanny and I took a bus trip from Honduras, through El Salvador and Guatemala, to our present home of Belize. It was an inexpensive trip, costing about US$30 per person, but Yovanny was a starving student and I had been earning only about US$65 every two weeks as a teacher in Honduras. It was enough for two people to live on, but my final paycheck had to cover all the expenses of the trip. All we had was US$5 for food on the 14-hour journey.
A Honduran who had traveled that route several times gave us instructions for the trip, assuring us that no visas were required to enter El Salvador or Guatemala. I was a Canadian citizen with permanent residency in Belize, and Yovanny, a Honduran, already had his visa to enter Belize.
We arrived at the border between Honduras and El Salvador mid-morning, and handed our passports to the immigration officer. He asked for my visa so I could enter El Salvador. I said I had been told I didn't need one.
"He doesn't," said the officer, indicating Yovanny. "You're not from Central America. You do. It will cost you US$25 and you have to go back to Choluteca (the nearest Honduran city) to buy it."
My heart rose in my throat and I looked at Yovanny. We explained our situation to the immigration officer and begged him to let me in anyway. He stood firm.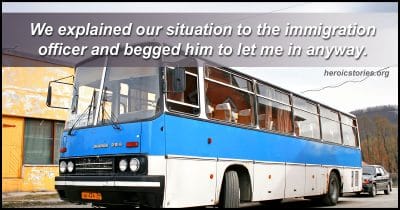 He was not going to let me into the country without the visa, so I offered a compromise: that he sell me the visa there at the border. We would have to find the money to continue the trip in some other way. We didn't know how, but we would tackle one problem at a time.
At first he refused to sell me the visa. Then, perhaps sensing I was desperate, he asked how I would pay for the rest of the trip. I told him to let me worry about that. In two minutes we were back on the bus, visa stamped in my passport, wondering how we would get to Belize.
We knew only two people in San Salvador, an American couple we had met twice through our religious community when they visited Honduras. Would they help us? Once we found their phone number, "Tim" came to the bus station immediately. His only question was how much we needed. We asked for a little extra, in case we ran into other complications. We even gave some of the extra money to another traveler who was also stranded because of unexpected costs. We mailed Tim's money back as soon as possible.
If we had been forced to return to Honduras, our trip would have been delayed for weeks. However, thanks to an immigration officer who bent the rules, and a relative stranger willing to risk lending us money, we arrived as planned. We will always be grateful for their understanding and trust.
Originally published as HeroicStories #514

Podcast: Play in new window | Download (Duration: 4:14 — 3.9MB)