by Naomi Russell
Scotland
I was an Australian living in England. I changed jobs in the summer of 2003, transforming my commute from a 40-minute train ride to a 40-minute walk. What a wonderful lifestyle change — strolling through parklands with birds and squirrels scampering around.
Walking home one Friday afternoon I saw a young man sitting with his bike on a bench by the path. A few moments after I passed, he rode by on his bike. Then I spotted him sitting on the next bench along the path. This seemed odd and I felt uncomfortable, so I got out my mobile and pretended to ring someone.
I could've turned off and gone out onto the road but thought I was over-reacting. He rode by again, went off the path and into the trees. I thought "See, he's gone".
Passing the spot where he turned I glanced over to see him about 20 metres away, exposing himself. I thought "What an idiot!" and walked on with the sound of his laughter ringing in my ears.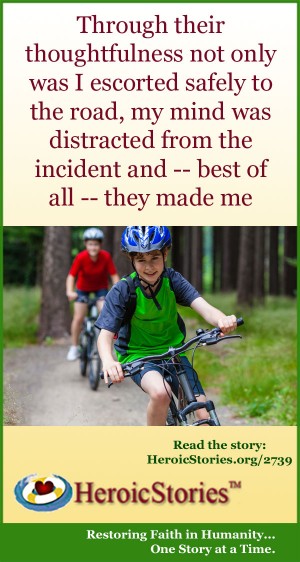 He picked the moment when no one else was around, unusual considering the number of people around. Calling 999 (the emergency number) seemed excessive, so I rang my boyfriend. By the time he answered I was in tears. I told him what had happened and asked him to pick me up from the nearby road. I talked to him until I saw other people ahead.
I composed myself and asked a man fishing in the lake with two young boys if he knew the local police number. I gave a brief explanation of what had occurred, leaving out detail around young ears. He rang his wife but she didn't know. I thanked him, saying I had to walk to the road to meet my boyfriend. He told me to come back immediately if I saw the man again and resumed fishing.
As I walked away the two young boys, about 10 years old, appeared on their bikes beside me. They were dressed in tracksuits and sneakers, probably enjoying riding around the park after school. They asked me what type of bike the man was riding and I admitted I knew nothing about bikes. I referred to the fisherman as their father and they informed me he wasn't, just a man fishing they had stopped to chat to.
The conversation moved on to the hot air balloon festival happening in the park over the weekend — a much more pleasant topic — and we joked and laughed about going up in a balloon. They rode slowly, weaving their bikes across the wide path, making sure they didn't get ahead. They escorted me all the way to the street and then rode away, waving.
What wonderful boys! If I could, I'd let their parents know what perfect gentlemen they were. Through their thoughtfulness not only was I escorted safely to the road, my mind was distracted from the  incident and — best of all — they made me smile!
Originally published as HeroicStories #610 on Apr 23, 2005

Podcast: Play in new window | Download (Duration: 4:06 — 3.8MB)