by Stacy Wilson
California, USA
My 13-year-old daughter and I were vacationing in Hawaii in April, 2002, on the island of Kauai. One day we were caravaning with my aunt and uncle who were driving another car, trying to find the outlook stop which would overlook Waimea Canyon. We had spent over an hour driving on a narrow, winding mountainous road.
I have no directional sense, so I had to pull over several times to confer with my aunt and uncle about which route to try next. I would
stop my car, leave my daughter in it, and walk over to their car. We would unfold our Hawaii maps on the hood of the car, try to figure out where we were, and how to get to where we wanted to be.
At our last stop, we finally looked out at the spectacular view of the Waimea Canyon, and took pictures in that fantastic spot. Then we spread out and discussed the maps again, returned to our respective cars and headed back down the mountain.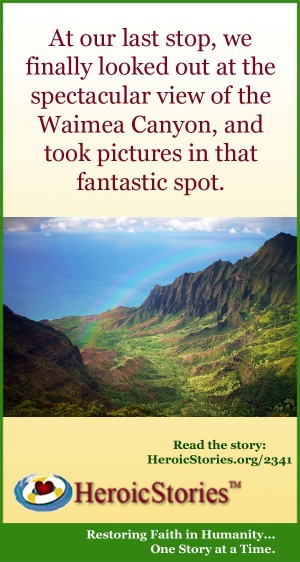 After a minute or two, I noticed a car in back of my aunt flashing his lights at her. I found out later that he was also honking his horn. We assumed he was another impatient driver, some of who had managed to clearly convey their displeasure with tourists who didn't want to drive the winding mountain roads at the speed of light. So we ignored him.
However, the driver was trying to get my aunt's attention because he had seen my little purse — which I had been using to hold down the maps — go flying from the hood of the car when we began driving away from the Waimea Canyon outlook point.
While we paused for a stop sign at the foot of the mountain, he jumped out of his car, ran up to mine, and told me that my purse had fallen onto the road two and a half miles back, and that everything had flown out of it.
Everything I had was in that little bag: my only cash (about $120), my only credit card, my ONLY driver's license! I was frantic, wondering how I would get on the plane to return to California without any photo identification.
I raced back up the mountain looking desperately for credit cards and receipts blowing in the wind. I finally saw a car on the other side of the road, with its door open, and my purse on the hood.
The driver was going through my things trying to find out how to contact me to get the purse to me. He returned everything to me, cash and all, and told me he is an employee of NASA in Kauai. Knowing the kind of people these two were, I hope they read HeroicStories and recognize themselves — so they know how grateful I still am for their help in such a stressful situation.
Originally published as HeroicStories #452 on Oct 13, 2003

Podcast: Play in new window | Download (Duration: 3:58 — 3.7MB)