by Dana Burnell
Washington, USA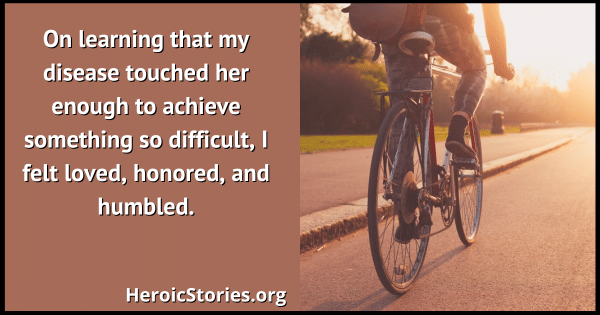 ---
In January of 1998, I was diagnosed with Young Onset Parkinson's Disease. I was 37. My wife Kathryn and I had just moved from Boston, Massachusetts to the Seattle, Washington area with our two young children, aged 9 and 11. We didn't know a lot of people, and the diagnosis hit us quite hard. We coped as best we could, but it was difficult.
That summer, my wife discovered an annual charity bicycle ride, the Seattle to Portland (STP) ride, a two-day, 200-mile ride from Seattle, Washington, to Portland, Oregon. Up to 8,000 people take part in this well-known local event.
One of the charities the STP raises funds for is the Northwest Parkinson's Foundation. This local foundation supports Parkinson's research. Kathryn had never been a bicyclist, so I was surprised when she signed up. The ride was not easy.
Her bicycle was old, heavy, clunky, and hard to ride, especially in comparison with the bikes of other people at the event. I had gotten her this discount-store bicycle several years earlier, a mountain bike with knobby tires. People suggested that Kathryn purchase a newer, lighter bike, but she didn't.
Kathryn found one friend to ride with and went on only a few training rides. Then 0ne Saturday morning in July, we left home at 5:30 a.m. At 6:00 a.m. she mounted her clunky old bicycle and rode to Portland over the next two days. That year she raised over $1000.
I was glad Kathryn was enthused about the ride and had become a fundraiser, but didn't really comprehend why she was involved until I heard her explain it to some friends of ours. I thought she was motivated to go because of the challenge, the exercise, or at least being outdoors.
She told our friends that the ride was one of the hardest things she had ever done. She said she didn't even like bike riding. With tears in her eyes, she said that she did it because it was one of the only ways she could help to make a difference in my life. Fundraising research for a cure was her motivation.
I was overwhelmed. I really had not thought about the deep impact my disease had on my wife, other than thinking she seemed OK with it. I had thought Kathryn had ridden to achieve a personal goal, fun, or adventure, but I was wrong. She had done it all for me.
Since then, Kathryn has perfected her fundraising and kept up the rides. She has ridden four years, collecting over $25,000 for Parkinson's research.
Kathryn has been by my side for over 20 years. We've managed every blessing and storm together. On learning that my disease touched her enough to achieve something so difficult, I felt loved, honored, and humbled. She rarely rides during the year, but in July, you'll be sure to find my hero riding south from Seattle.

Podcast: Play in new window | Download (Duration: 4:12 — 3.1MB)
Originally published as HeroicStories #482 on Jan 26, 2004