Jackie Smith
Kansas, USA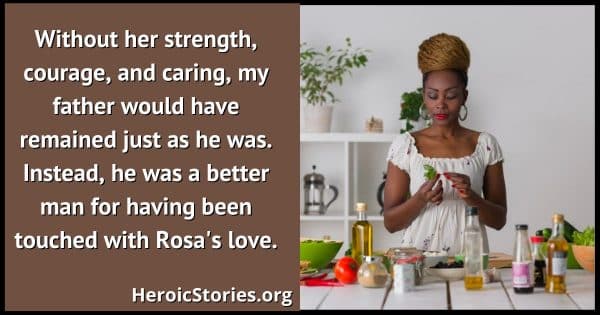 ---
During the fall of 1982, my first year in college, my parents advertised in the local paper for a housekeeper and caregiver for my mother, who was a quadriplegic. The only respondent was an African American woman from the nearby community of Nicodemus, founded in the 1870s by former slaves known as Exodusters. When I learned my father had hired her, a large knot formed deep in my stomach.
Although my father had a great sense of humor and a huge heart, he was also a product of his white Anglo-Saxon Protestant Kansas upbringing — and a notorious bigot. I believed he would behave horribly to this woman. Memories flooded back: the gentleman who drove into our farm yard in the middle of summer with an overheating car and my father's cruel refusal to allow him any water. The racist comments Dad had made over the years, and so forth.
Shortly after Rosa started working for my parents, I telephoned home. When she answered, I introduced myself and asked to speak to my mother. Rosa replied, "I think she's out jogging." Fishlike, my mouth opened and closed until I heard her laugh.
Meeting her in person, I found a woman of dignity, laughter, and gentleness who cooked the most delicious meals imaginable. Once I asked Rosa where she had learned to cook so well. "My mother taught me to make everything with love and it would turn out right," she answered.
My father was polite and courteous, but interacted little with Rosa the first few times I was home. As time progressed, I watched their relationship grow and my father's demeanor change. Within a few months, they were bantering back and forth, joking, laughing, and squabbling like siblings.
One day, Dad told me that Rosa taught him to judge a person by what's on the inside, not by skin color. Her goodness and love had touched him deeply, changing his lifelong attitudes.
Years later, after my father's death, Rosa told me that her friends had warned her not to work for him. On her first day of work, Dad demanded his meals be on the table promptly at 12 noon and 6 p.m., not 10 or 15 minutes later. She complied. Then one day, he was late arriving to eat, and she had already removed his plate from the table. He said nothing, but retrieved his plate and silverware, sat down, and ate. According to Rosa, that was the turning point of their relationship. I said he deserved it, but she disagreed. It was only foolish pride, she said, something she tried to avoid.
Rosa followed her mother's lesson to make everything with love, and even took it further. Without her strength, courage, and caring, my father would have remained just as he was. Instead, he was a better man for having been touched with Rosa's love.

Podcast: Play in new window | Download (Duration: 4:27 — 3.3MB)
Originally published as HeroicStories #533 on July 22, 2004