by Terry Hoffman
Hoquiam, WA
Christmas has never held very many good memories for me.
As a child, my family life was a nightmare. My mother was full of hate for the world and made life miserable for all of us. My father was the kindest person, but could not stand up to my mother.
My maternal grandparents lived in Great Britain and I never met them. My father's parents lived right next door. Unfortunately, my grandmother died when I was just a baby, and my grandfather, when I was eight. In other words, I grew up without any sense of family. I used to "adopt" the mothers of my friends, trying to define what that elusive word, "family", meant. After I left home, my father used to have to sneak visits with me after my mother "disowned" me so many times.
On one of those rare Christmases when I was welcome, my mother bought me clothes as a gift. Unfortunately, they were the wrong size. She said that she would exchange them. Shortly thereafter, I did something to upset her once again, and she spitefully returned my gifts. There went that Christmas.
Unfortunately, my father died when I was in my late twenties. I wisely severed all connections with my mother, which was the only way of dealing with her hatred. She had poisoned my sister and me against each other over the years, so communication between us was very sporadic and not all that amicable. I spent most of my Christmases alone, since I felt like an intruder when invited to spend the holidays with my friends and their families.
Shortly after I left home, I had made a very good friend; she turned out to be my life-long best friend. Sometimes we lived close to each other and other times quite a distance apart, but we always maintained our close friendship.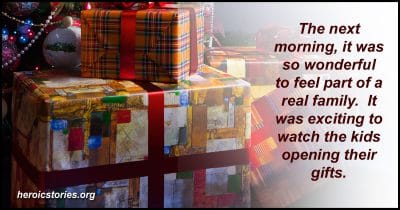 One Christmas, I realized I could not endure another holiday alone. I called my friend on Christmas Eve day and asked her if she would allow me to spend the holiday with her and her children. She agreed, and I set out on a two-hour drive to her home. When I arrived, she immediately put me to work, helping her prepare for the next day. After the kids were in bed, she sat me down and started throwing all sorts of gifts at me to wrap. It went on for hours. Exhausted, we finally went to bed about midnight.
The next morning, it was so wonderful to feel part of a real family. It was exciting to watch the kids opening their gifts. It was all of the Christmases that I had never had. Imagine my surprise when I discovered that there were even gifts under the tree for me! In the chaos of wrapping the previous night, she had sneaked in several items. She had played Christmas Angel and tricked me into wrapping my own gifts for the only real family Christmas that I ever had!
Originally published as HeroicStories #878 on Dec 9, 2016

Podcast: Play in new window | Download (Duration: 4:01 — 3.7MB)