by Verle Randolph
Oklahoma, USA
My friend Brenda and her husband were flying from Tulsa to Baltimore by way of Dallas-Fort Worth on a storm-filled night last fall. Because of the weather, their airplane was diverted to a small airport more than 100 miles south of Dallas. Other diverted flights had completely overwhelmed the facilities. The place had no food and not enough seats — and it was cold.
The storms were widespread and kept building instead of dissipating. At about 10 p.m. the travelers were informed that flights would not continue that night. When buses could be arranged, the travelers would be taken by ground to the Dallas-Fort Worth airport.
While the grounded passengers waited for the buses, Brenda talked with a young woman about their situation. The young woman said, "I'm not going to wait on a bus. I can hitchhike and get there faster."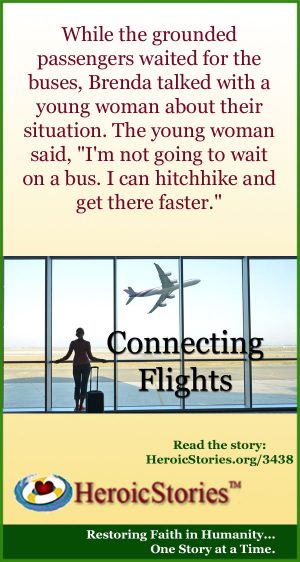 Brenda was horrified. She asked the girl her age, and where her parents were. The girl said she was 14, and traveling alone. "You just found a temporary mom and dad," Brenda said. "Stick with me. Have you contacted your parents?" The girl said she had tried, but didn't have any more money. "Well, let's try again," Brenda said.
After considerable difficulty, Brenda contacted the girl's father, who was frantic by then. He had been talking to airline employees and they didn't know where his daughter was. Brenda told him she would stay with the girl until they could meet face to face.
The bus trip took three hours. Finding the girl's father was not easy, though. The DFW airport is huge, the airline they used has several buildings, and all the terminals were full of stranded passengers. Brenda asked airline employees to help her search. The girl and her father were finally reunited at about three in the morning.
Shortly after, another young woman approached Brenda and asked for help. She was in her early 20s, had never flown before, and didn't know what to do with all the flight disruptions. She was afraid. Brenda looked at her tickets and found that she was also flying to Baltimore, but on a different flight. Because all flights were being rescheduled, Brenda got the girl booked on the same flight with her, bought her breakfast and saw her safely to Baltimore.
Brenda saw nothing extraordinary in what she accomplished: possibly saving a young girl's life, relieving a father's greatest worries, and alleviating another girl's fears, all in one night. But Brenda doesn't think she did anything unusual; she just helped two people who were traveling alone — until they met her.
Originally published as HeroicStories #354 on Nov 4, 2002

Podcast: Play in new window | Download (Duration: 3:54 — 3.6MB)
Audio Credits:
"Narration" by Wayne Talmadge
"Airport Ambience" by syna-max via freesound.org
"Thunder" by lennyboy via freesound.org
"Terminal motor onibus sabado tarde" by paisagemsonoraunila via freesound.org