by Kelly Kimura
Tokyo, Japan
We are an American family living in Tokyo. Although we visit our families in the U.S.A. once a year, we didn't really give much thought to the changes my husband's aging parents and aunts were
going through. Suddenly there was only one person left: his mother.
His mom is a diabetic in her mid-80's, a heart attack survivor with bad knees, and an independent lady whose English is an increasingly rusty second language now that she is alone.
Her driving has become more erratic, and she falls more frequently. The house she loves and has lived in for over 40 years has become challenging for her. She is faced with making it safer or moving to senior housing.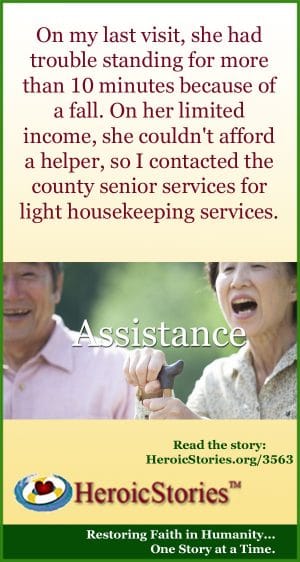 We made separate yearly visits to give her more company, but otherwise could only try to help from afar. Sometimes our help led to more problems, such as when I arranged to have my mother-in-law's many medications mailed to her. This eliminated the one-hour drive that she had been making for years to a military base pharmacy. As a result, she had to frequently hobble down her steep front steps and walk up an incline along an open drainage ditch to get to her street side mailbox.
I applied for a nonprofit community development grant to install a ramp in place of her steps, but the slope of the lawn made the ramp too expensive. On other occasions, we couldn't get the resources my mother-in-law needed right away.
On my last visit, she had trouble standing for more than 10 minutes because of a fall. On her limited income, she couldn't afford a helper, so I contacted the county senior services for light housekeeping services. However, there was a waiting list and it was months later when the housekeeping service became available.
During the application process, to our surprise, my mother-in-law was assigned a social worker specializing in senior citizens. I assumed it this was just to verify that she needed the service.
I didn't realize that Lori, the social worker, could and would do much more.
Lori makes home visits and takes the time to patiently understand what my mother-in-law's needs are. She has gone with my mother-in-law to the doctor, arranged for a mailbox and mail delivery at the front door, and even pushed through a modified, affordable version of the stalled ramp project.
Lori has even driven my mother-in-law to see several senior housing complexes. On top of all this, she emails me updates to let me know about options and resources.
I know it's Lori's job to know what to do and who to go to in order to resolve issues common to senior citizens; however, Lori doesn't stop there. When there is something that would help my
mother-in-law, Lori runs with it and sees it through — as if my mother-in-law were her only case.
Thank you, Lori, for making such a difference, both for my mother-in-law and for us.
Originally published as HeroicStories #843

Podcast: Play in new window | Download (Duration: 4:04 — 3.8MB)