by Betty Pepper Craiglow
Grapevine, Texas, USA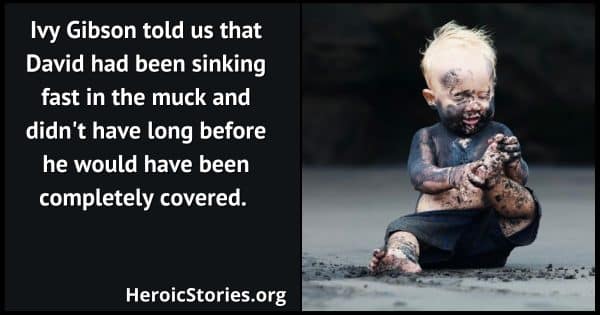 ---
My grandmother and I were on the back porch at my parents' home in Louisiana where the extended family was gathered for Sunday dinner. Suddenly, we heard cries from the back yard. We ran outside, looking frantically for the source, and discovered a newly opened hole in the ground, about 28 inches across, where grass growing across the top hid a spring-fed well underneath. For years, my father had been filling in the unused well with dirt and debris. Down this awful hole we could see only the head of my 20-month-old nephew, David, about 15 feet down, head above the leaf mold, muck, and water in the well.
I ran to the back door of the house and yelled inside, "David's fallen in the well!" My husband and David's father were right behind me as I ran back to David. Looking around the yard for something to use to reach him, I saw an old garden hose but dismissed it as being too weak to hold anyone's weight. My grandmother and I must have been making a terrible noise because our next door neighbor came running over. He immediately assessed the situation and took command of the rescue. Ivy Gibson, a wiry, unassuming, slightly built 31-year-old drag-line operator, told us to bring the hose, double it, and lower him into the small opening.
Ivy quickly removed his shoes while we readied the hose. Then David's father, Paul, my husband, John, and I lowered him into the well. It was too narrow for him to bend over, so he hooked his feet under David's arms and ordered us to start pulling them up s-l-o-w-l-y! About halfway up, he hollered "Stop!" — he was losing his grip. He wedged David against the side of the well to get another grip, and was able to hold on until they reached the surface so we could grab them.
David's face, head, and body were completely covered with thick muck. By this time, David's mother, Loretta, who was expecting her second baby any minute, was in shock. It took me an hour to painstakingly clean all the trash and mud out of David's eyes and body. During this entire ordeal, David did not cry. He endured the cleansing without a whimper. David and his mother were taken to a hospital in Shreveport where David was pronounced in good shape and Loretta delivered a baby girl the next day.
The natural springs had kept the well from filling in over the years as planned. After the rescue, it was plumbed to see how deep it was and found to be too deep to measure. Ivy Gibson told us that David had been sinking fast in the muck and didn't have long before he would have been completely covered. It's a good thing Ivy was there and able to think and act quickly, since David might not have been able to hold on long enough for a rescue team to arrive.

Podcast: Play in new window | Download (Duration: 4:31 — 3.4MB)