by Jonathan McGarvey
New York, USA
When my wife and I first dated, we talked about adopting whether or not we had biological children. We married, finished our master's degrees, then thought about starting a family.
In 2002, our church was invited to put on a sports camp for kids between 7 and 17 years old in Novgorod, Russia. After two weeks in Russia with 152 kids at the camp, we decided to adopt a Russian child and have biological kids later.
In September 2002, we started the process. We learned about a particular child just before Father's Day 2003. That week, we discovered my wife was pregnant, but of course continued with the adoption.
In July 2003, we traveled to Astrakhan, Russia, to meet a sweet 12-month-old girl who shares a birthday with my wife. How amazingly quickly she captured our hearts! We came home, completed more paperwork and waited. And waited.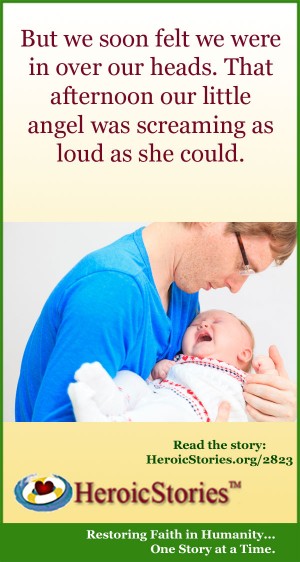 Finally returning to Astrakhan in October 2003 for our court date, we faced more complications and delays. After many sleepless nights, the judge decreed the adoption. All our effort and worry were worth it. We became parents!
While in Astrakhan, we met others there to adopt children. We had planned to have dinner with Susan that night. An American, she was in her 30s with black hair, fair skin, and a kind smile. Susan is married with a biological 12-year-old. She and her husband planned for her to make the first trip towards adopting two children. The entire family would return for the official adoption.
But we soon felt we were in over our heads. That afternoon our little angel was screaming as loud as she could. Understandably — she was in a strange place, with strange people speaking a strange language. We fed her, changed her diaper, sang to her and held her, and she was still very upset. We wondered if we'd done the right thing to uproot this little girl from everything she'd known. Our new daughter was absolutely inconsolable, and we were at our wits' end.
We called Susan to cancel our dinner plans, and she asked to stop by our room. When she arrived, she asked to hold our daughter — and then told us, "Go to dinner, just you two." We didn't know what else to do, so we went.
Susan had her own worries. Trying to adopt two children at once was difficult; she had at least twice as much paperwork to manage as we did. But she understood our frustrations and fears. She gave us time to recoup our strength and refresh our resolve.
Our daughter is now home and flourishing, with a baby sister born on February 14, 2003 — Valentine's Day. We will always be grateful to
Susan, who put aside her concerns, calmed our daughter and helped us through an impossibly difficult day. We couldn't have done it without her.
Originally published as HeroicStories #492 on March 1, 2004

Podcast: Play in new window | Download (Duration: 4:27 — 4.2MB)