by Ian Chai
Selangor, Malaysia
In 1989, I was away from home, attending the University of Kansas in the USA. I found an advertisement for a summer job as a programmer at Forschungsinstitut fur anwendungsorientierte Wissenverarbeitung an der Universitat Ulm, in what was then West Germany. I was delighted to be offered the job; a good opportunity to see part of a new continent.
Naturally, I expected things would be different — big things, like language and culture. But I never expected small cultural differences would affect me. Both Malaysia and the USA emerged from the British Empire, so we have common standards for the way many things are done. For example, I was surprised that little things like how doors fit into doorframes were different.
The bread was also very different. While it was fun at first to eat the various kinds of brotchen, after some time I longed for the white, square, soft bread I was used to. And the big things were not that bad: the folks in the village of Ulm mostly didn't speak English well, but were very friendly and helpful nonetheless.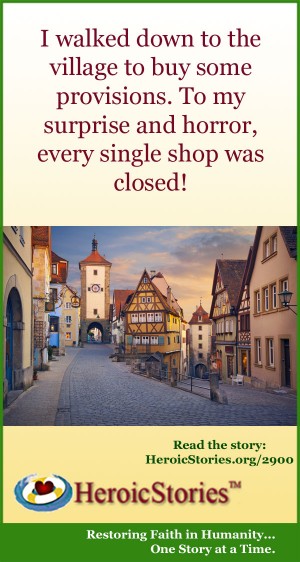 One of these small differences, however, tripped me up early in my stay.
The first few days my employer put me up in a bed-and-breakfast hotel. Then I found a small studio apartment to rent. It was evening by the time I got settled in, and I walked down to the village to buy some provisions. To my surprise and horror, every single shop was closed!
I was alone, with no food or any other kind of provisions. I wandered around for a while in a daze. I was about to walk back to the apartment, resigned to taking a soapless shower, going to bed without supper, and having no breakfast the next morning.
Then I saw a university student. Why are the shops all closed? He explained that (unlike in the USA where there are all-night grocery stores, or Malaysia where grocery stores are open late at night) all shops in Germany (in 1989) closed at 6 p.m.
But he didn't leave it at that. He took me back to his room and shared his supper with me. Not only that, he took out a knife and cut off half his bar of soap, half his cheese and half of his bread. He gave it all to me so that I would be able to shower and have breakfast the next morning!
It was clear that he did not possess much. But what he had, he was willing to share with a poor Auslander (foreigner) wandering the streets of his village. Although we exchanged contact information, I didn't see him much after that. In the sixteen years since, I've even forgotten his name. But I still remember his kind deed, which has inspired similar actions in my own life. He is one of the biggest reasons I think fondly of my time in Germany.
Originally published as HeroicStories #520 on June 7, 2004