by Felix Wong
California, USA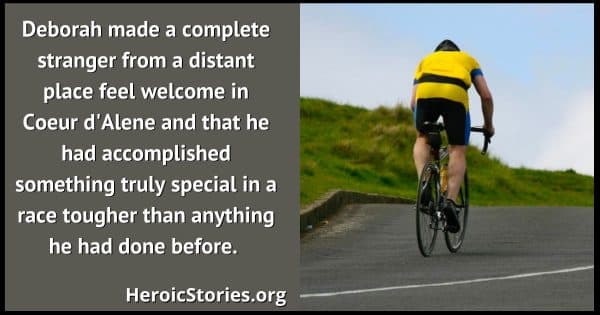 ---
The road to Idaho from California was over 1000 miles — a full day's drive. I arrived on my 28th birthday (June 26, 2003), but I had been dreaming of this moment for years. Destination: Coeur d'Alene, with its glamorous lake and scenic roads. Goal: Ironman Coeur d'Alene, my first Ironman distance triathlon.
The race was a 2.4-mile swim followed by a 112-mile bike ride and a 26.4-mile run. Participants arrived early to take care of pre-race logistics, including registration and racking our bicycles in a secured area.
In the registration tent, I was instantly greeted by friendly volunteers. Minutes later, I was in front of a table to pick up my race number. Deborah Silva, the friendly woman behind the table, was quick to make conversation. "Have you done any Ironmans before?" she inquired. "Nope, this will be my first time," I replied.
We talked several minutes, and I confessed my inexperience, being a seasoned long-distance cyclist, a mediocre runner, and worse swimmer. I had never swum farther than a mile before.
Deborah asked if I had family to cheer me on. "Nope, came here alone," I replied. We talked a while, and as I exited the registration tent, I thought, what a wonderful volunteer!
The next day I had just racked my bicycle and was exiting the bike corral when I heard, "Felix!" It was Deborah. "I knew you'd be here. I'll be rooting for you during tomorrow's race!" She showed me a big handmade sign: "Go #176" — my race number.
Sure enough, on race day Deborah and her family were at Mile 50 of the bicycle portion, holding her sign and cheering me on. It really lifted my spirits, having been one of the last athletes to emerge from the water in the morning and now confronting 90-degree heat on the bike and run courses.
As if her being out there all afternoon wasn't enough, after darkness had fallen and I was just finishing the race, there she was! "You did it!" she said. It was almost 15 hours since the race had begun, an exhausting day for both of us. Yet she waited at the finish line to congratulate me, give me a hug, and take pictures so I'd never forget this day — the day I fulfilled the dream of doing my first Ironman.
Deborah made a complete stranger from a distant place feel welcome in Coeur d'Alene and that he had accomplished something truly special in a race tougher than anything he had done before. She made this day extra memorable by going far beyond her duties as a race volunteer, offering encouragement to a young Californian. And sure enough, a few weeks later my pictures arrived in the mail!
Originally published as HeroicStories #560 on Oct 26, 2004

Podcast: Play in new window | Download (Duration: 3:56 — 3.0MB)