by Tammy Lambdin
Tennessee, USA
In March 1975, my mother brought my younger sister and me back to our small hometown in middle Tennessee. We had left it behind just three weeks earlier, ostensibly for a better life near Indianapolis. My aunt lived there and had intended to help us get a fresh start. For whatever reason, the gold wasn't at the end of that rainbow, as usual.
Cissy and I were used to moving — we moved 23 times before I was 18. But at 13 and 11 years of age, we were tired of being the new kids in school (I attended 19 schools in 4 states).
Until we found a place to live, we stayed in a motel on the western edge of town, quickly depleting our meager cash reserves. Mom finally found a rental for $80 a month. A two-bedroom cement block home, it was in the landlords' back yard, facing the street that ran along behind them. Probably no more than 700 square feet, it was small, but Cissy and I thought it was a palace.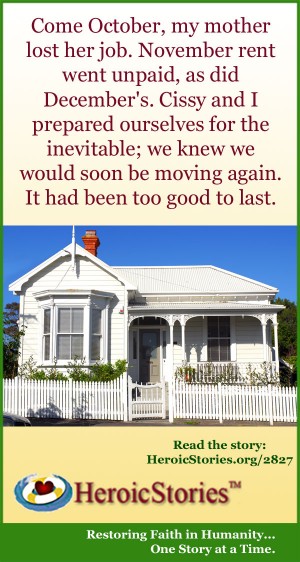 We settled in quickly. The house had a huge front yard, with green apple trees serving a buffet of fallen fruit for rabbits in the dawn. We made friends with kids from the neighborhood, playing under the streetlight late into the summer evening.
Life was great that first summer. Mr. Hendrix, the landlord, kept the yard mowed and the house well maintained.
Come October, my mother lost her job. November rent went unpaid, as did December's. Cissy and I prepared ourselves for the inevitable; we knew we would soon be moving again. It had been too good to last.
The first day of our Christmas break from school, Mrs. Hendrix knocked at the front door. Mom was out, so I answered the door. I had received eviction notices before, so I knew what to expect. I might as well face the music. Mrs. Hendrix held out a box to me, smiling as she said, "I thought you girls might enjoy some bread. I bake it every Christmas for my friends." Unprepared for such generosity, I managed a mumbled "Thanks."
After I closed the door, Cissy and I dug through the box of goodies. There were several loaves of yeast bread, jams, candy, and new socks and gloves for all three of us. No eviction notice to be found!
That was the first of many kindnesses Mrs. Hendrix bestowed upon us. Mom never got caught up on the rent. When I left home in the spring of 1980, it was entirely probable that we were years behind. We should have been evicted many times over.
Instead, we lived more than five years in our twenty-fourth home. The homemade bread was delicious, but the Hendrixes gave Cissy and me something we had never known in our young lives: stability, roots and the comfort of belonging to a neighborhood.
Originally published as HeroicStories #628 on Aug 10, 2005