by Marjorie Searl
New York, USA
A few years ago, my college-aged daughter traveled to Europe to study German. It's always a bit nerve-wracking to put your child on a plane heading to a new destination. But Meghan is a pretty resourceful individual, and we anticipated that she would manage her connections successfully.
In her first phone call to us after she landed, she told us that her luggage hadn't arrived, so she was stuck in Munich, but not to worry. A very nice lady named Carol had invited Meghan to stay in her apartment until her luggage was found and she could continue her trip. She gave us the telephone number, and rang off.
As the days went by we didn't hear more from Meghan, and our anxiety mounted until I could stand it no longer. I called the phone number that she had given to us. An American-sounding woman answered, and when I asked for Meghan, replied that Meghan had left. Before I could panic, she continued to speak, and in a very reassuring manner explained the story to me.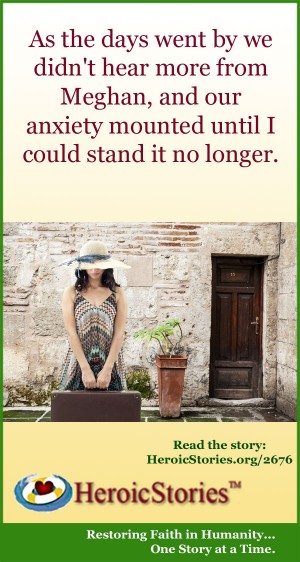 They had both arrived by plane in Munich in the middle of the night in the same situation — neither had their luggage arrive. Carol correctly recognized that Meghan was a young college student traveling alone and was now in a strange city where she knew no one.
Carol was a law professor from California on sabbatical and teaching in Germany, with an apartment in Munich. She was also a mother of grown children who had, in their travels, needed to rely on the kindness of strangers. She recognized an opportunity to provide similar assistance to a tired and frazzled young woman, and offered to take Meghan home with her and host her until Meghan's luggage turned up.
Meghan had certainly heard our many years of warnings about going off with strangers. Nevertheless, she could sense the genuine safety and refuge which was being offered to her by this kind woman. She took her up on the offer, and spent several days with her. Indeed, Meghan spent further weekends at Carol's apartment during the course of her studies in Germany.
We discovered that Carol's specialty was law relating to international kidnappings. She had German heritage, too, and was teaching in Germany to reconnect with her German roots. Her Jewish grandfather had been spirited out of Germany by people with good hearts — so that he would not be transported to a concentration camp.
I'm indebted to Carol for rescuing our daughter and keeping her safe during her first few days in Germany. And I will always feel grateful to her for continuing to provide Meghan with friendship (and a mom) during that summer. I try to be open to ways to assist travelers, and to help people who are new to our community to feel less alone.
Originally published as HeroicStories #413 on May 29, 2003

Podcast: Play in new window | Download (Duration: 3:39 — 5.1MB)
Audio Credits:
"Airplane Taking Off at Beirut Airport" by Ramston via freesound.org
"tegel airport" by Metropolis I via freesound.org
"Phone Old Landline Ringing"  by robotjay via freesound.org
Music: "Vleurgat" by Oskar Schuster