by Cher Weinert
Westminster, Colorado, USA
I have always thought my husband, Ken, was the best man in the world. What really convinced me was when I was diagnosed with the most virulent form of breast cancer, interductal carcinoma.
Told that I was terminal, I only vaguely remember making that horrible phone call to Ken. From that point on he was the rock that kept me from suicide. He told his bosses that WE had a crisis and his wife came before work. They were very understanding. The next weeks were pretty much a blur through the mastectomy and recovery that followed.
Ken was there when they took my dressings off for the first time. I did not take my eyes off him and he made no reaction. After the nurse left, I cried and asked him his feelings. He said, "Honey, what I was expecting was so much worse than this." Ken never left my side, becoming my caregiver and nurse.
We have a 7-year-old daughter who did not understand all the facts, but knew her mom was sick and was very scared. Ken became both mom and dad, cooking, getting her to school on time, and providing the TLC that I couldn't. He cuddled her, and rocked her when she woke up screaming from nightmares.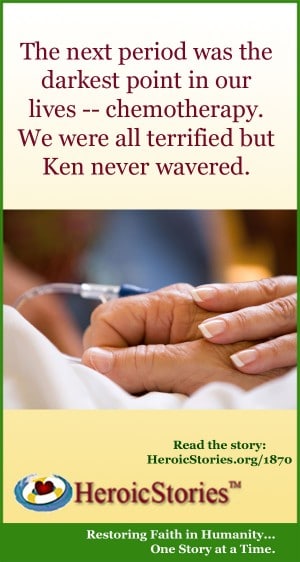 The next period was the darkest point in our lives — chemotherapy. We were all terrified but Ken never wavered. He went with me for each horrible treatment. He tried to keep me laughing when I truly wanted to die. The anti-nausea medications didn't work and he was always there trying to make it easier by bringing me ginger ale, whatever food I craved and could keep down, and flowers on a regular basis. When my hair fell out, I was devastated. Ken brought silly hats and would just caress my hand and say it just meant the drugs were doing what they were supposed to and curing "our" cancer.
During one very emotional time, I looked at him and said "Why don't you just start looking for a whole woman?" With tears in his eyes, he looked at me and said "Cher, you're my other half. I have no need for someone else." He finally convinced me that he had taken his wedding vows of 22 years ago seriously — we had our share of the better and now I think we've had our share of the worst.
The good news is that the oncologist has told us that she believes that I am cured. Ken managed to work full time, both at his place of employment and at home. He truly never complained, always tried to meet my needs no matter how obscure or unreasonable, and mainly loved and supported me through it all. He put most of his life on hold for me.
Now it is almost three years later. This year we celebrate our 25th anniversary and plan on cruising in Alaska to celebrate.

Podcast: Play in new window | Download (Duration: 4:18 — 6.0MB)