By Elissa Motter
Loughman, Florida, USA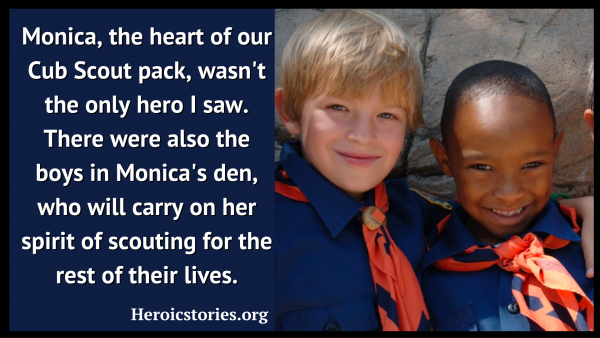 In 1997, after a frustrating year of involvement with a disorganized Cub Scout pack, my friend James and I decided to start our own pack. That was pretty brave, considering the only members we had at this point would be the two of us, one other parent, and our respective sons.
On Scout Recruit Night at Loughman Oaks Elementary School, Randy, our district executive from the Boy Scouts of America, spoke to the group and told them what scouting was all about. He talked about everything from camping trips to achievements to the bond the boys build while working together. Then we started talking specifically about our pack. We weren't sure the parents were going to "buy in" to signing their sons up for a pack that hadn't been established for years and didn't even have leadership except James and I.
When addressing the parents, we used the simple, honest approach: we told them we had no leaders and would need their help. The first person to raise her hand was Monica. She and her family had just moved to the area from Orlando and had previously been involved with Cub Scouts with her son, Denver. Through the year and a half Monica was with our pack, she was involved in everything.
In December, Monica talked to her den about gangs and how Cub Scouts were a "good gang." She stressed how they should wear their colors (blue and gold) proudly and how they were a brotherhood and should watch out for each other at meetings, home, school, or anywhere.
On February 7, 1999 — Scout Sunday — Monica passed away from unexpected heart failure. This loss was a shock to all of us, and we were devastated. As much as we missed her, we could not even begin to imagine what her husband and son must be going through.
For her memorial service a few days later, all the Cub Scout parents gave their sons the choice of whether to go to school or to attend the service. Normally, kids wouldn't want to go to something where they have to sit still and be quiet. But when given the choice, my son said, "Mom, Denver just lost his mommy. He's going to need his buddies to be there for him, just like when Monica talked about us being there for each other." To see such a look of deep concern on his face touched me, and I knew he wasn't doing this just to get out of school. Not only did Daniel want to be there for his buddy, but all the boys in Monica's den (and a few others in the pack) wanted to be there for Denver, too.
Monica, the heart of our Cub Scout pack, wasn't the only hero I saw. There were also the boys in Monica's den, who will carry on her spirit of scouting for the rest of their lives.

Podcast: Play in new window | Download (Duration: 4:01 — 3.0MB)