by Becky Williamson
Derry, New Hampshire, USA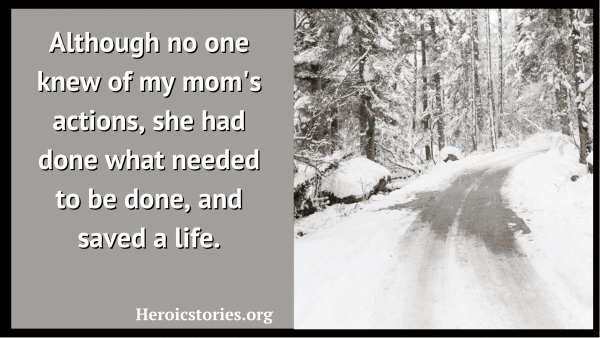 One icy New Year's Eve about 25 years ago, my mother and father, along with several of their friends, were on their way home from a party. They were driving down a rather deserted stretch of two-lane highway near St. Charles, Michigan, when my mom noticed something strange along the side of the road. It appeared there were lights shining up into the pine trees from the ditch. She asked my dad to turn around so they could investigate.
When they got back to where she thought she had seen the lights, they found a van upside down in a very deep ditch. The lights my mother had seen were the headlights shining up into the trees. Since she is a registered nurse, she went down into the ditch to see if she could offer help to anyone down there. My dad went with her, and their friends went to find a phone to call for help.
When she got to the overturned van, she could see a young man lying on the ceiling, pinned there by the steering column. She could tell by his position that he was hurt very badly. He kept asking her to get him out, but she explained to him that it was cold and icy outside and he was better where he was. My mom stayed and talked to him until the paramedics arrived, and then she quietly slipped away.
Twenty years later, I was working in Saginaw, Michigan, when one of my co-workers began telling a story about how it was the 20th anniversary of when her brother had become paralyzed. As she talked, the story began to ring bells in my head. I asked her, "Was your brother driving a van that went into the ditch out on Frost Road where all those big pine trees are?" Her mouth dropped open and said, "How did you know?"
I recounted the story of my mom and dad finding her brother and calling the paramedics. By the time I finished my story, her eyes were filled with tears. She told me, "My brother always said there was a nurse there with him. But no one saw her, so we thought he had been hallucinating." She went on to tell me that because of my mom's actions, her brother lived to marry and have children, even though paralyzed. Although no one knew of my mom's actions, she had done what needed to be done, and saved a life. To me, that's the definition of a hero, and I'm proud I have one that I can also call Mom!

Podcast: Play in new window | Download (Duration: 3:41 — 2.8MB)