by Kelly Bruton
Charlottesville, VA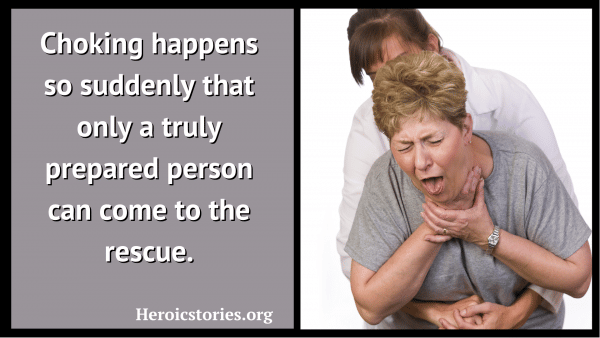 My day started out just like any other day: get everyone out the door, walk the dog, and head off to the day's scheduled events. I had volunteered to work at Martha's Market, a local non-profit event to raise money for women's health in Charlottesville, Virginia. I was on the loading dock, helping the market vendors move into their booths.  I stopped briefly to grab a sandwich and have a drink of water.
As I went to take a bite of the sandwich, somehow a piece of bread broke off, and I inhaled it. Fresh, sticky, whole wheat bread. I started to cough, and it wouldn't budge. In fact, when I tried to inhale, I sucked the bread in more firmly. And coughed more.
Soon, I was standing on the loading dock surrounded by a group of women. My face was red, and my eyes were watering. I was embarrassed, thinking, "Oh my heavens! This can't be happening to me. Everyone is staring at me!" I was wheezing, barely able to suck in any air. The noises I was making were scary ones, ones you don't normally hear people make. I could hear the conversations around me: "Is she ok?" "Is she just coughing or is she choking?" "If she's coughing it means she's getting air, just let her cough!"
I was getting in tiny sips of air… but then, I wasn't. I was completely blocked. I signaled, to the best of my ability, that there was no air. I sliced my hands in a hatchet motion across my throat. The air had stopped.
Christy W. shouted, "That's it! She's not breathing!" She swooped in, pushed everyone away, and grabbed me from behind. She performed the Heimlich maneuver, more than once, and she kept asking, "Can you breathe?" Finally, her efforts dislodged the bread. I sucked in a huge gasp of air, followed by explosive coughing… but I could breathe.
Christy stood there, shaking with adrenaline, and said, "I just completed my recertification two weeks ago. My company makes us do that every year. Are you OK? Do you need to sit down?" And I was OK. I was better than OK: I'd been rescued.
I was rescued by a woman who took her company's training seriously. She was terrified, but she didn't let that stop her from doing what she had learned to do. She watched me for clues to my condition. She didn't stand back; she jumped in and did what was needed.
How many of us think every day, at least once, that this could be our last day on this earth? I never did; I was busy living through each day. But now, every night, I think to myself, "I could have died today," and I smile in gratitude. And you can bet that I'm taking that training to pay it forward!
Originally published as HeroicStories #851 on Dec 26, 2014

Podcast: Play in new window | Download (Duration: 4:20 — 3.2MB)