by Graham Stratford
Osaka, Japan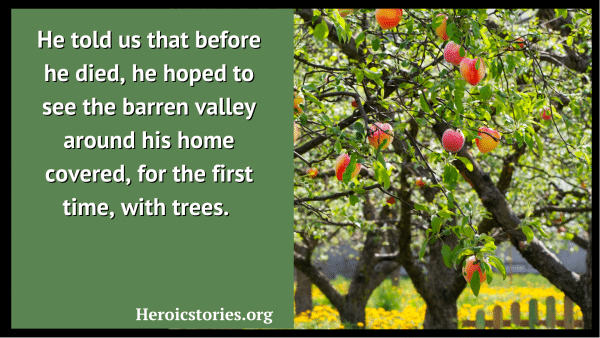 Most people don't know where Lesotho is. I didn't when I was asked to go there as a volunteer teacher. It's a small country completely enclosed by South Africa and old, grass-covered mountains. The winters are so cold and dry that tree seedlings don't survive unless they are near a spring or river.
With too many people and livestock crowded into too small an area, the soil is constantly eroding, and deep gullies are everywhere. In winter, especially, the landscape is stark and bleak, a cold beauty that rapidly loses its allure.
So when I met Wilfred, who was traveling to his family's home with a load of trees to plant, I had to go and see what he had done with them. My visiting brother and I made the two-hour hike one winter morning.
What we saw as we came around the flank of the mountain was like water to a man dying of thirst. There were trees. Lots of trees. Stretching from where we were standing almost to the top of the mountain.
We carried on and reached Wilfred's home, deep in a shaded hollow, and all around us there were wonders: an orchard with peach, pear and apricot trees, and irrigation ditches to carry water from a stream to the seedling nursery. I was amazed at what Wilfred had accomplished, but he modestly told us that most of the work was done by his father, Mr. Pitso.
I can't describe the feeling I had as we talked to Mr. Pitso and the depth of his passion became apparent. He had started planting trees 20 years before, often collecting peach pits that others threw away and growing trees from them.
At first, the people around him were suspicious or envious. Several times, people came and uprooted the trees he had planted; they didn't want him to have something that they didn't. Mr. Pitso, in his wisdom, found a way to combat the vandals: he gave his trees away freely to his neighbors. Soon, everyone was growing trees, although not at the pace of Mr. Pitso.
He organized tree-planting days at the primary school where he worked and started a tree-buying cooperative to get bulk rates from the government nursery. He showed people how they could make tree-growing profitable by selling fruit and firewood. In times of drought, although he was in his sixties, he carried buckets of water from the small stream to his trees.
As we left, he told us that before he died, he hoped to see the barren valley around his home covered, for the first time, with trees. When I hear stories of Africa being a basket case of political, economic and social problems, I remember Mr. Pitso's dream. And a poor elementary school teacher living in a stone hut in the mountains of Lesotho gives me hope.

Podcast: Play in new window | Download (Duration: 3:43 — 2.6MB)