by Linda Gavitt
Connecticut, USA
In January 1999 planning for my daughter's wedding began with a phone call telling me she and John would marry in March — leaving little time to plan! Fortunately Lauren wanted a small wedding with 20-30 close friends and relatives. She was in Orlando, Florida, John was stationed in Kentucky, and I was in Connecticut. Her finance's family generously offered their help to plan everything, and their Tampa area home for the reception.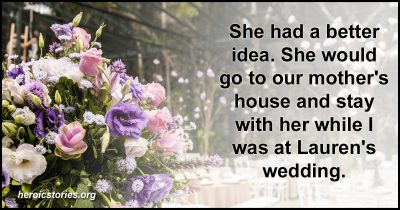 I obtained vacation time to attend, but I was my 84-year-old mother's primary caregiver. She had many health issues, and lived in a house near mine. I worried about leaving her alone for 11 or 12 days.
I searched for people to check up on Mom or stay with her, but she was uncooperative and didn't want a stranger in her home. While I understood that, it left me with a major problem.
I tried to put that aside as I helped with wedding plans as much as possible by phone. We didn't invite my family members to the wedding because of the short notice and the distant location.
As the date for Lauren's wedding approached, I arranged for care for my cats, bought my airline ticket, arranged a rental car and bought a dress — but still had no solution to the problem of my mother being alone.
One evening my sister Joan, who lived in South Carolina, called to say she would come to the wedding. She wanted Lauren to have family members present at this significant event in her life. I was surprised and a little worried about adding more people, but gave her the details about dates, and locations. In addition, we'd had problems with finding a hotel because the men's college basketball playoffs were in town at the same time.
Joan said she'd start making arrangements to fly or drive to Florida. We began talking about Mom, and I broke down and cried because I was so worried about her staying alone. Joan kept saying Mom would be OK, but I wasn't convinced, because this trip was so long.
But we said goodnight and left it at that.
About three days later Joan called to say she had a better idea. She would go to our mother's house and stay with her while I was at Lauren's wedding. Of course I cried with surprise and delight. She would arrive two days after I left Connecticut, and leave two days before I returned. Thus my mother would only be alone for a total of four days, and in just two-day increments.
I went to Lauren's wedding with a free mind and heart, and enjoyed the days I spent with her in Florida. For that very important day in my and my daughter's life, I will never forget the gift of peace of mind my sister gave me.
Originally published as HeroicStories #823 on April 14, 2011

Podcast: Play in new window | Download (Duration: 4:04 — 1.9MB)